Day 1
Last Thursday morning real early MV users Socalguy, MikeMcarthy, Ronindamascus, Kevin from Vespa Motorsports, my girlfriend Stacy, my two puppies and I all drove from my house to my cousins in Pasadena, CA. We took the dogs since they are too young to be boarded and we were curious to see how they traveled. I took my trusty $600 P200, Socalguy took his 76 kitted Super, Mike brought his 300 Super, Kevin brought his slightly modded P200 and Ronin brought his kitted PX150 with a 21 tooth clutch. My cousin lives at the starting point in Pasadena and allowed us to store the extra vehicle needed since everyone couldn't pile into my truck.
Once unloaded and stared at by every neighbor on the block, the 5 riders took off for Angeles Crest Highway while my girlfriend took the dogs to Lancaster, CA to wait for us in case anything should happen. Taking the N2 for an hour we popped out in Acton, CA and went to Vasquez Rocks. Vasquez Rocks is a famous filming site used in an early Star Trek episode, a few westerns and more recently The Big Bang Theory.
After a quick spark plug change for Ronin, we arrived at the park and found out that someone was filming there and socalguy, Kevin, Ronindamascus and Mike immediately got yelled at by the director to get out of the shot! Security was called and shooed us away so we explored a different section of the rocks until filming was done. Security was nice after the fact and told us it was a music video for a Cyrus. Everyone asked Miley Cyrus but security said not her so maybe her sister?? If you fans notice a music video in the rocks with a big red banner in the background let us know who it is!
From there we headed north to Palmdale, CA and everyone started running low on gas. Promising we'd stop at the first gas station that's on the right, we passed every clean and shiny new gas station on the left and then found the worst dump of a place in Palmdale, CA. The pumps worked but the guys complained the inside of the place looked like a horror film and the staff needed improvement. Oh well!
Gas tanks full we pressed on and wiggled our way passed the dried out lake beds of Lake Elizabeth and Hughes, past Quail lake into Gorman and then to Frazier Park. Corporate discounts at the Holiday Inn Express, everyone was checked in and eating at the local Mexican restaurant by 530. Stacy and I took the pups for a long walk and then enjoyed Thursday night football in our room. Rest of the wild bunch were asleep by 8.
Total mileage 124 miles.
My lab puppy Meridian wondering whats going on
Meeting Ronin in San Clemente, CA
Quick photo and then were off on an adventure!
Diagnosing the spark plug problem/ fix in Acton, CA
Vasquez Rocks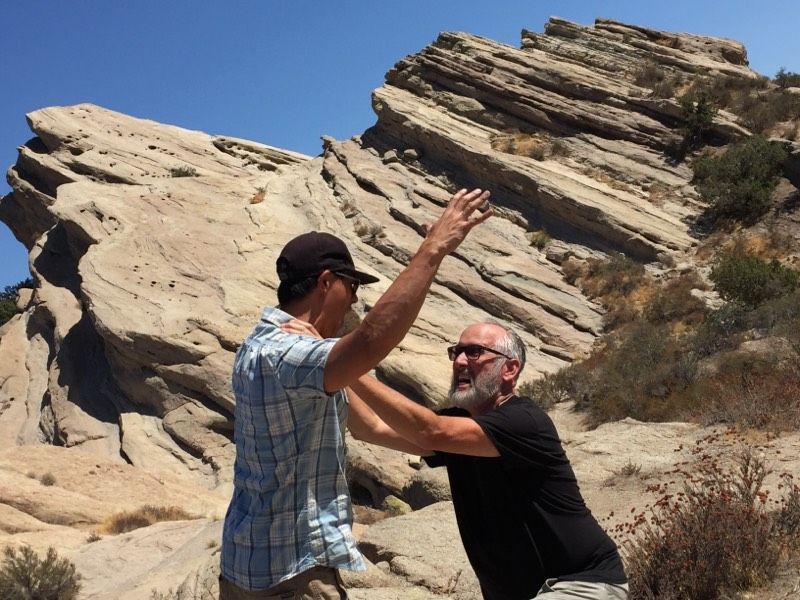 Ronin and Mike recreating the Star Trek fight
Kevin Stram. One of the voices of the Vespa Motorsports Podcasts and phone order specialist extraordinaire