Here is my other recently aquired project: 1981 Vespa 100 Sport.
I found this scooter listed for sale here in Sunny Socal. Not running missing parts, sitting on the hubs in the grass on the side of the house. They said it was a family members, and had been sitting in storage in Oakland area for about 10 years, before being recently brought down to SoCal...honestly not sure, as there is no plate or papers. But it isnt rotted out, and the motor still turns. I low balled em, they accepted. $150 changed hands, and they even loaded it for me! It definitely needs some TLC, and a few parts; of course some hard/impossible ones; but overall I'm happy. Especially for the price! I was not really looking for another project right now, but how could I not! I want to ride!
This is my first smallframe, and I've always loved the 100 Sport. Nice little quirky details, and my first scooter friend waaaay back in the day had a 100 Sport. We rode together many many miles, so they have always had a special place with me. Here is my new red and white Sporty
Here's the plan as its coming together.
I just got this a few days ago, so I'm sure this will evolve after some input from the SF experts
Engine turns free, has good compression as far as I can tell (will check with tester), plug is still a bit oily. Gonna peak inside cylinder with my Endoscope.
We'll atleast see if it'll spark up, then we can see if its road worthy.
Rebuild carb: its got some nice hard varnish inside
New battery, coil, spark wire & plug
Fresh gasoline and 2stroke oil
Cross the fingers and Start the engine!
I'm already planning it might need a tear down and rebuild after sitting so long, but lets see what we can do with it as is
New brakes F+R
New cables all around
New or rebuild shocks F+R
New seat cover or new mono seat (preferred!)
Sort out some type of signals, as originals are missing
Figure out something to replace the battery side door. Time to refresh my fabricating skills!
Oh and sort out the legshield dent(s) - see pics below...
I'm sure there's more. There always is. I have a plan - kinda
as aquired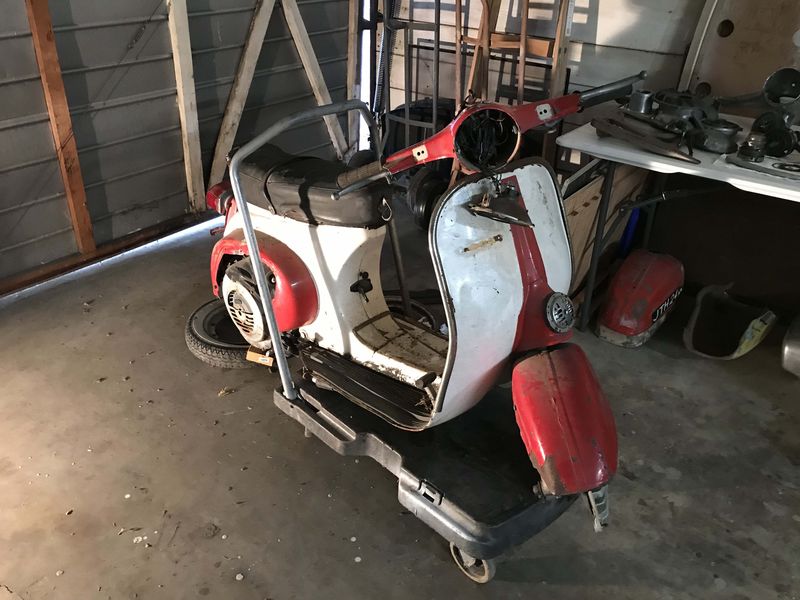 at home
crusted flakes
engine underside
back on 2 wheels. good thing I saved those old bald tires from years ago
9k miles. Missing the floor rails, but atleast it had the mats 3M taped down
missing the battery door, but thankfully still has the sweet US fuel tap lever ;)
huge ducking horn!
tanks dry and clean
left side blinker hole :-/ Others are ok
Original??
plugs still a little wet
wires for days