I've just returned from a 12-day tour, following the coast of Georgian Bay and also following the Deer Trail route. Actually, the main goal of the tour was to experience the incredible beauty of the remote Algoma Country - the very scenic roads 129 and 546 (Deer Trail). There are very few dwellings, more bears than people, and off-season even hours can pass before one encounters a car. It is the most beautiful area of the province of Ontario. Experiencing it from the saddle of a motorbike had been my dream.
Deer Trail route is about 250 km. In the counterclockwise direction, starting in the small town of Elliot Lake, it heads north via Mississagi Provinical Park. In that section the road is mostly straight, but there are many hills, some of them quite steep. Once through the Provincial Park, road 546 takes over and follows Little White River. It's all crown land (public land) there, and wild camping is allowed. This section of the route is the most scenic. The road is bumpy (but not harshly so) and in some places has a sprinkling of gravel, so higher speeds are not possible; but why would anyone rush through such gorgeous nature?
As to the Georgian Bay Coastal Route, the east and north sides are mostly along major high-speed highways (90 to 100 km/h legally), though still pretty. The west side is much more interesting, going through the paper mill town of Espanola, and then continuing through a hilly and very scenic section to Manitoulin Island (supposedly the largest freshwater island in the world). Then there is the ferry across Lake Huron from the island to the town of Tobermory.
From Tobermory it's along regional roads (speed limit of 80 km/h) back to Toronto. Actually, I went off the main regional roads and followed some scenic sideroads. It payed off, as I hit a jackpot = Beaver Valley. When you're riding along this road and all of a sudden it drops down into the valley and the valley opens in front of you, it leaves you speechless (well, at least myself). It's a deep valley with some dramatic looking hills. Its picture shown below doesn't do it justice - it must be experienced in person to truly appreciate it.
The whole tour distance was 1498 km, split over 12 days. I preferred to stay in campgrounds, but in some places it wasn't possible or there were those two days of rain. Except for the two rainy days the weather was picture perfect.
Day 1 - Earl Rowe Provincial Park campground (busy regional roads nearby)
Day 2 - Six Mile Lake Prov Park campground (next to a major highway)
Day 3 - Sturgeon Bay Prov Park campground (away from highways, but some trains)
Day 4 - Sudbury (hotel, bloody expensive)
Day 5 - Elliot Lake campground (small, cheap, looked nice, by a road but quiet at night)
Day 6 and 7 - Tunnel Lake Trading Post motel (clean, inexpensive, but looked like a cave or a tunnel [dark grey plaster on walls looking like dark concrete])
Day 8 - Chutes Provincial Park campground (train nearby)
Day 9 - South Baymouth motel (very cozy and quiet, though not the cheapest)
Day 10 - Sauble Falls Provincial Park campground (nice and quiet)
Day 11 - Knights Inn motel in Flesherton (inexpensive and clean)
Day 12 - back to Toronto
Here are links to short videos from the tour:
Deer Trail (the section along road 546):
https://youtu.be/IgEctEsVYKw
Road 129 (Algoma Country):
https://youtu.be/ScvF4cPEyto
Waterfall in Chutes Provincial Park:
https://youtu.be/nqdNZQG3U9s
The ferry:
https://youtu.be/8KF4DuEiBlY
The ferry cost $35 CAD and runs twice a day.
The largest wild animal I've encountered were chipmunks.
Approximate route of the tour
Georgian Bay Coastal Route
Six Mile Lake Provincial Park camground
sunset, Sturgeon Bay
sideroad through Canadian Shield, by Sturgeon Bay
one of the campsites; food hanging
Deer Trail
remote wilderness, Mississagi Provincial Park
narrows
crown land (public land), wild camping allowed
road 546
Little White River
road 129 by Mississagi River, Algoma Country
road 129
evening glory, Sturgeon Bay
fog in Algoma Country
waterfall, Chutes Provincial Park
south of Espanola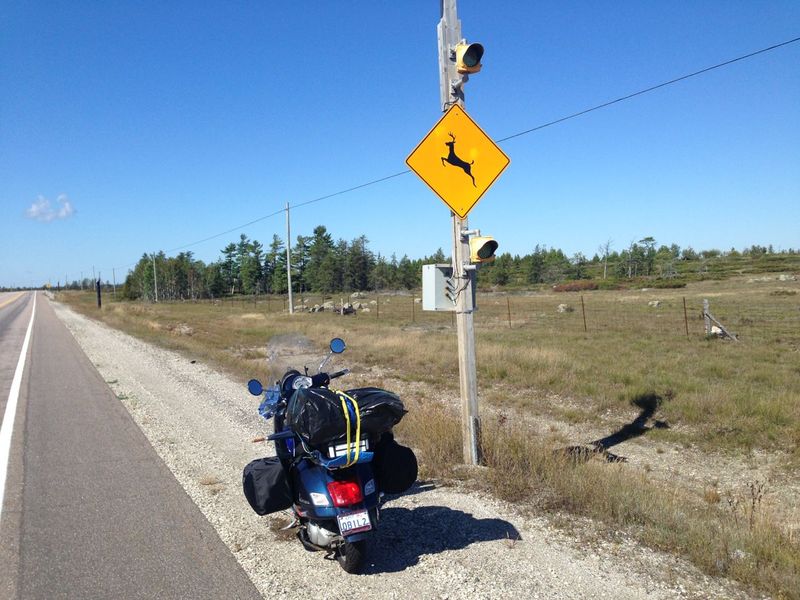 automated (motion sensors) deer crossing warning; getting close to Manitoulin Island
this swing bridge is the only land link to Manitoulin Island, It swings 90 degrees to let ships through.