I've only had my scooter a couple of months now, and until this weekend I haven't had any availability to ride anywhere but to work.
I heard about Skutoberfest, an annual ride from the Living Room cafe in San Diego to the Oktoberfest celebration in El Cajon, hosted by the Secret Society Scooter Club, and I was available, so I went.
Problem number one was getting there and back. I live in Escondido, about forty miles north of the ride, and my scooter likes to cruise in the 40 - 50 range, so freeways were pretty much out of the question.
There are a number of surface street options for getting south to San Diego, but Escondido is bordered on the south by Lake Hodges. With only the freeway to cross the lake, I was left with two options - drive one exit on the freeway, or cruise the back country. The freeway looked pretty swift, so I opted for the back country.
The route took me out the San Pasqual Valley, past the Wild Animal Park. And then back to Pomerado Road via Bandy Canyon. I cut a couple of miles off the journey by taking Ysabel Creek Road, a rutted, non-maintained road that was at one time asphalt, but is now two-thirds loose dirt. Once on Bandy Canyon Road and then Highland Valley Road, it was all twists, turns and the occasional burro, until I was on Pomerado, which gave me a straight shot to Mira Mar.
Once I got to Mira Mar, I picked my way along the surface streets. I had to put my phone in my shirt pocket and crank the volume all the way up so I could hear Siri's directions.
After ninety minutes of driving I arrived at the cafe to a glorious site, about 40 scooters all lined up. Most were classic Vepas, there were a few modern scooters, and one Lambretta.
I'm a bit shy in a group of strangers, but I found scooter enthusiasts to be a welcoming bunch, and I got into a few conversations, but mostly I took pictures of details that I want to incorporate in my scooter, like a European taillight and chrome side panels.
At 11:15 am The ride began. I didn't know what to expect, I've never ridden in a group of scooters. So, I did what I do at line dancing, put myself in the middle, so I could see everyone else.
We rode through side streets and neighborhoods, in a thick cloud of blue smoke (by the end of the day I had a sore throat). All the kids we passed waved, and I can't imagine a fleet of big motorcycles getting the same response from people.
I wasn't sure what would happen at the intersections, but a couple of club members came flying through the pack to get to block traffic, we even did so in front of the police who just waved at us.
Once we got out on a long straight, the leaders got far out and the group was separated. A bunch of us pulled over and waited for someone who knew where we were going, then we started our ascent up Mount Helix.
I was worried that my scooter was too slow, or that I wasn't an experienced enough rider to ride with the group, but as we spiraled up the aptly named Mount Helix I was holding my own and I didn't have anything to worry about.
We regrouped at the top of Mount Helix and took a quick break before descending into El Cajon.
The jaunt from Helix to the German-American Society was quick. Oktoberfest is a pretty popular event and the parking lot was full, but they had a reserved section for us and we backed in one long row, it was a beautiful sight.
Oktoberfest has a reputation for being a drunken revel, but the El Cajon Oktoberfest is a family-friendly event that focuses on celebrating German culture. There's beer of course, but I didn't partake, I had a miles to go before I could rest. After a couple diet cokes and a pretzel the size of my face, I left to get some fuel and start the ride home.
From El Cajon I chose State Route 67 to get me back home. It's technically not a freeway, but it is pretty fast. The road rises out of the valley for a couple of miles and then rides up and down through the hills up to Ramona.
I had two issues, climbing the hills and getting back down. I pretty much rode the shoulder, at a blistering 25 miles per hour, until I crested the first big hill, but I never did get up enough speed to get safely into traffic, so I kept to the right as much as possible. This of course was a problem for the coming back down, I needed to make a left turn across four lanes of traffic.
I chose Archie Moore road as my descent road. Of my three choices it's the least travelled has the slowest speeds and sets me up nicely back in Bandy Canyon.
I wasn't able to make my left and had to drive another half-mile until I could safely turn back at a light. Once on Archie Moore I check my directions and started my downhill run. After about a half-mile I picked up a tail - a black Mercedes following me so closely it filled my mirrors. The road is pretty twisty and there wasn't any place to turn out. Finally I came to a left turn where I could go straight into a driveway. I squealed to a stop before hitting the garage door. After that I didn't see another car until I was back on the flats.
Archie Moore Road, to Highland Valley Road, to Bandy Canyon Road, all steep and twisty. It was great fun, I rode the clutch as much as I could. I'm not a fast driver, so I took my time and had fun. Once I reached the valley floor I had a choice - Ysabel Creek, or the long way. Again I took Ysabel Creek. I went over some bumps too fast and I accidentally shifted from third to second without touching the clutch.
Back onto San Pasqual Valley Road, I was only a few miles from home and tired of going slow. I opened her up, the clutch slipped twice as I was coming up to speed. I assume it was pretty hot from my descent. After that it was smooth sailing all the way home.
In total I clocked 96 miles, about 80 of that was getting to and from the actual ride. I was bone tired the next day, but it was totally worth it.
Ysabel Creek Road
Scooters lined up outside the Living Room Cafe
Mount Helix
The line up at Oktoberfest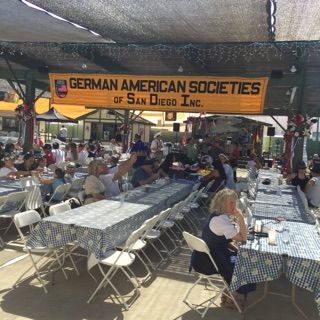 Oktoberfest
Skutoberfest 19 Ride Patch