We did it again! This time we conquered the desert, over 1460 miles In 6 days. 3 Vespa 300s and my wife on her Vespa Sprint.
Everything went as planned, and the 150 once again proved to be a touring contender. She did struggle a bit on hills and elevation, but handled the ride without any issues.
Here's the route:
Day 1: 3 parties, San Diego, Long Beach, and Temecula, Rendezvous Spot 79/371 Bound for Joshua Tree, Via Palm Desert.
Day 2: Joshua Tree to Sedona Via Flagstaff. Very long day, elevation 7000+, 40°
Day 3: Chilled out in Sedona site seeing, and Jeep ride tour. What a magical place.
Day 4: Sedona to Grand Canyon, we did the 64 loop. Just Breath taking. Headed back to Sedona for a nice Dinner and many beers at the camp ground.
Day5: Sedona to Palm Desert, via Jerome and Prescott by far one of the best Twisties and roads on our trip, then down to hwy 10, and a long 4 hour wind blowing, dust, trucks, and boring boring boring ride to Palm Desert, best part, being on 2 wheels.
We did cheat here, we got a hotel after camping throughout the whole trip.
DAY 6: Palm Desert back to the Rendezvous hwy79/371, 2 headed north, 2 headed south. Our ride back to San Diego was epic, Warner springs to Julian to Cuyamaca to Lyons Valley to Jamul, then Chula Vista. Home!!!! 1424 miles.
Jumbo Rock, Joshua tree
Joshua tree
Lake Havasu, London bridge
Hwy 62
Joshua tree
Grand Canyon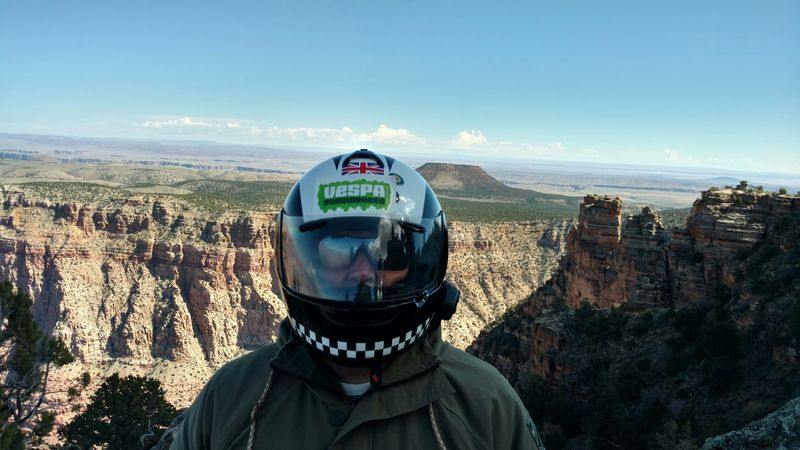 Grand Canyon, Vespa everywhere
Vespa everywhere
Sedona Jeep Cowboys
Sedona camp ground
Sedona
Vespa everywhere