It had been almost a month since the last big ride, so Ken set up another one that would become a fine adventure.
Because no oysters were eaten on this ride, we had to come up with another name. As we visited with the world famous drag racer, Don, Big Daddy, Garlits, I decided to call it the Big Daddy Tour.
It began with me heading south 90 miles to Newberry to meet up with Ken at his friend, Larry's, country trailer. Kayak partner, Dave, was to meet us but he had difficulty getting out of St. Pete and didn't arrive until long after bedtime. Ken and I dined at one of the two Mexican restaurants in town. We couldn't decide whether we liked this one or the other one where we ate last time better. Both good.
Ken had booked a kayak trip on the nearby Santa Fe River for Thursday morning, so we piled into Dave's truck for the ride north to High Springs.
We got instructions and off we went for a seven mile paddle (downstream, of course) We saw lots of turtles and several clear springs with water rising out of limestone holes.
After the kayak trip on Fisheating Creek, I must say that I truly enjoy paddling on these old waterways. It offers a touch of old Florida that I seek whenever we travel.
We dined for lunch on soul food in Fort White, then take out pizza from an Italian restaurant run by a German with Mexican workers. America at its best. Good pizza, but truly too much food for one day.
Friday had us saying goodbye to Dave, and Ken and I heading south to Ocala to see the Don Garlits' Drag Racing Museum. By chance, it happened to be a day where 'Big Daddy' would be offering a personal tour of the shop and back rooms, so we signed up for that. We toured the main areas, then had lunch and got in on the fine tour.
'Big Daddy' is now 84 years old and only races an electric rail, but he has had it to 180 mph and now is about to install new batteries to get it to 200. I found him to be a great host to the twenty or so of us. Well worth the visit.
After that we headed south, 130 miles to Avon Park. We checked into the Jacaranda Hotel, in the center of a dead town. Avon Park is in the midst of the same problem of many small towns in that there is simply not enough interest, people and traffic to bring people downtown to handle their tasks. Shopping centers moved the shopping out. And Avon Park doesn't have a county courthouse to make it a legal and business center. So the storefronts are closed except for an excellent restaurant across the street from the hotel and a small breakfast place where we ate Saturday morning.
Saturday saw us heading sixteen miles south to the Sebring International Raceway and Airport. We went to the airport to see our friend Walt fly his Pitts Special in an aerobatics competition. Unfortunately the timing didn't work out so we sat and talked with him while others flew. Always fun to visit with him and we were also able to meet with his son Rocky, also flying the plane.
It happened that the speedway was having a testing day. Free admission as long as you signed a waiver. We had the run of the place with visits to the grandstands and paddock area. The highlight was seeing a well prepared Mercedes GT getting serviced in the paddock. The owner also brought his Pagani Huracan.
We left after an hour to head northeast to Titusville, 160 miles away. I misjudged the fuel stops so we went to Melbourne first for gas. We got to Titusville and had lunch at Dixie Crossroads, not our type of restaurant as it was huge and had a waiting line at 3:00. The rock shrimp were tasty but the beer was $10.00 and the atmosphere touristy at best.
After spending the night at the Hampton Inn, we had arranged to see Bob (Flordian) in the morning for breakfast. He arrived early and we had a nice ride past Johnny Weissmuller's house to our kind of breakfast place right next door to Dixie Crossroads. Bob is an very nice guy and we thoroughly enjoyed the visit. I headed for home after that, but he and Ken went to the local aircraft museum for a visit that I heard was a good one.
I very much enjoy these rides with Ken and look forward to the next one. It may be a while with the Greek Island trip coming up next month, then the heat of summer. I logged around 650 miles total on the ride.
My usual stop on 238 heading to Lake Butler.
Kayaking on the Santa Fe River
Riding south to Ocala
Scooters and big sign.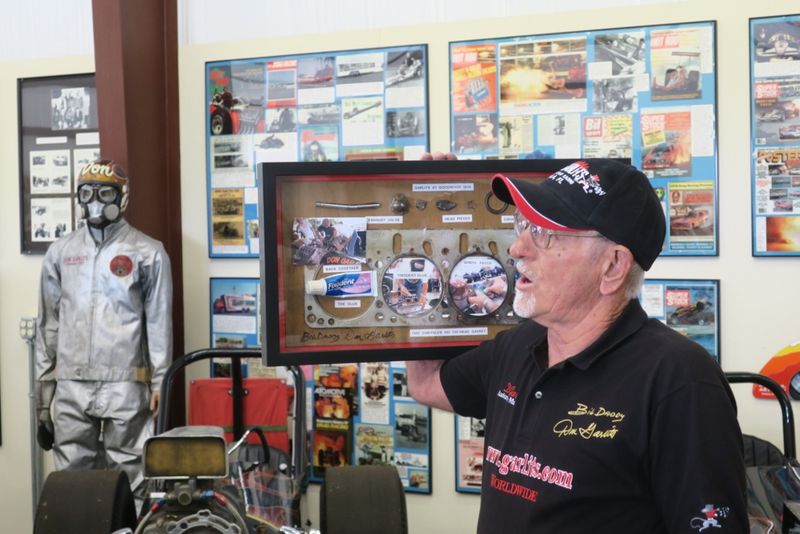 Big Daddy showing the parts he used to get a dragster running for burnouts at the Goodwood Festival of Speed a few years ago.
Macho Ken in front of the Jacaranda.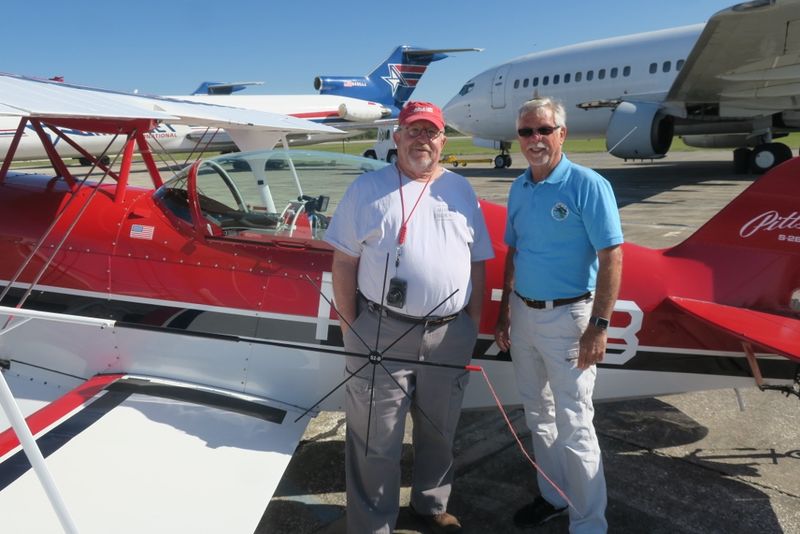 Ken and Walt in front of Walt's Pitts Special.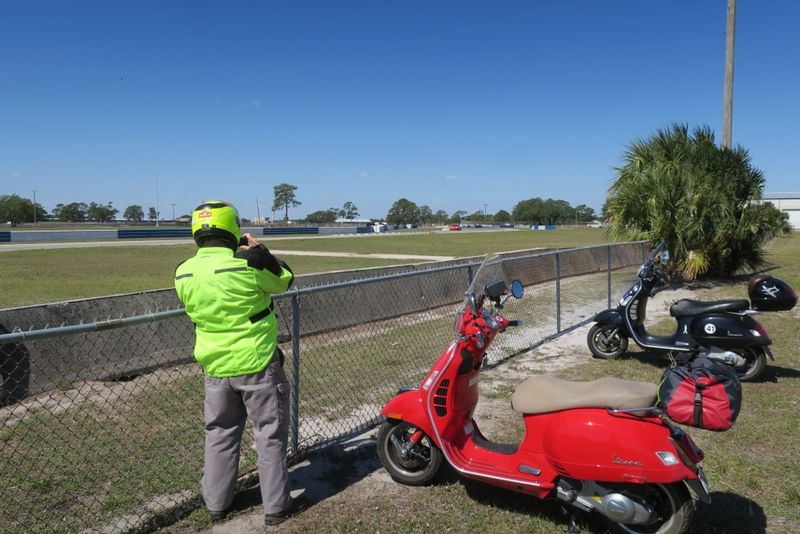 Ken and scooters taking photos at Sebring
International Raceway.
Ken at Pablo Perez's paddock. He was a good match for the Mercedes racer.
A quick stop at the Desert Inn in Yeehaw Junction.
Bob and Ken at the hotel in Titusville.
Ken being Tarzan at Johnny Weissmuller's house.