A Motorsport friend of mine uses a colloquial NZ term when describing his recent life, saying he "took a big bite of a shit sandwich". He says it without any self pity but it is the ultimate understatement, he shoved the whole thing in his mouth all at once.
A bit of back story. He and his second wife had 2 great little boys when she was diagnosed with brain cancer. Treatment went pretty well and she was recovering when he found out he had cancer of the salivary glands. Nothing that removing a chunk of tongue and bottom jaw followed by chemotherary wouldn't fix or at least improve dramatically. So, while he was recovering from that his wife fell back into the clutches of brain cancer and died while both boys were under 5. I thought that was as bad as it got, but no; he asked his specialist one day if falling over was a normal side effect. Long story short - no. The diagnosis was he had a form of Multiple Sclerosis! He had the most fabulous support from the local MS Society that he decided to try to give them something back and so 5 years ago the Kawhia Cruise was born.
This year I took Bella, figuring I could probably hold my own in the twisty bits but would suffer when the road was either straight or steep uphill. As we were due to stop twice along the 90 odd kilometre journey I felt I could regroup easily.
And so it proved, Bella performed faultlessly, me not quite so as I failed to get to the reserve tank tap before she ran dry, downhill fortunately. The home journey was easier as there was no mental pressure to push along in fear of holding up the others, and she certainly used less fuel with the lighter throttle use. I think about 80 vehicles registered and most went at least to the second stop. My day was made by getting a bottle of wine just for having the temerity to take such a little scooter on some challenging roads (well in their eyes), then picked up a spot prize for the number on my registration sticker, and finally winning a raffle foe a $400 photo shoot of my vehicle. Win, win, win!
First stop
Second stop
Enjoying the cruisey sounds of Shotgun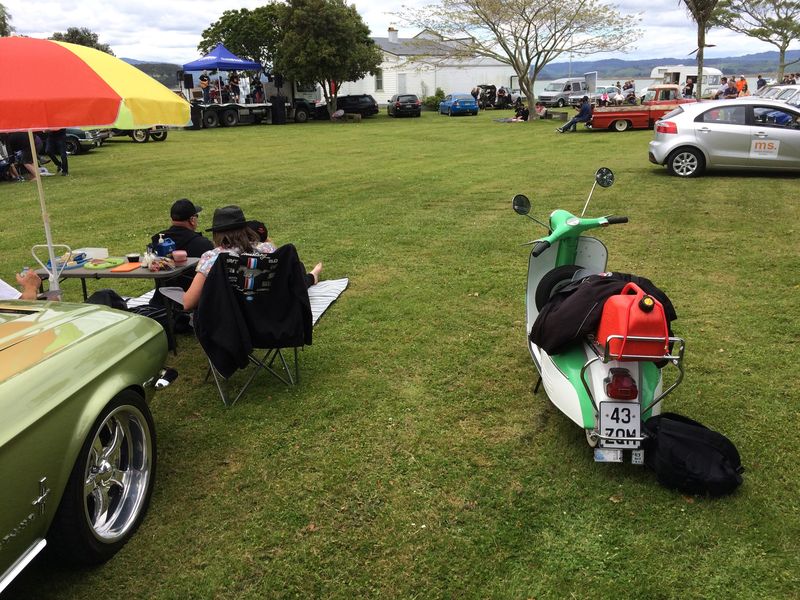 Chilling at the Kawhia Domain