I had my beautiful GTS 300 SuperSport in Orange since launch 2013, and never had a single problem with it.
I was so sad to see it go but it was time for me to have a refresh.
Also here in the UK, most Vespa dealers are doing a £600 discount on the new SuperSports and I am a sucker for a bargain.
So I dropped £4700, on the new 2020 VESPA GTS 300 SUPERSPORT HPE - GRIGIO TITANIO. In my opinion, the Orange Color of my old bike was much better but for 2020 the SuperSports only comes in Grey or Blue and I am not the biggest fan of the Blue.
Anyway I am very happy with the new SuperSport, it feels a bit nippier than my 2013 SuperSport. Also, the added ABS/TC and body redesign is a Major Major Major
A few tips for anyone buying one of these new 2020 Vespa SuperSports HPE and looking to add an Official Rear Crash Bar
I ordered the official Piaggio Rear Crash Bar from SIP Scooters and had to use 3x M6, 6mmx25 A2 Stainless Steel Flat Washer under both Screws that hold the seat opening mechanism for the seat to open and close properly.
There are videos showing that you only need 1 or 2 Flat Washers to get the seat to close after fitting the official Crash Bars, I tried 1 also 2 which did not work but 3x Washers on each side worked, maybe because of changes in the new 2020 model.
Also, The Screw threadings of the Crash Bars were extremely stiff at first so before fitting the Crash Bars you should use your hands to screw in the middle part of the Bar so all of the fitting holes are aligned. Once you have done this takes everything apart again and the Crash Bars should now fit more easily to your bike.
Also for the Official Fly Screen, there are 2 versions available the old version for GTS up to 2013, then the new 2014 to date Version. Not sure if both will fit by make sense to go for the newer one.
Also, a must-buy for any Vespa GTS HPE owner is 2018/2019 HPE SLUK Guard ULTRA HPE. Ordered it from
Scooterlab.uk/
I cannot wait for it to arrive.
Now its time for me to save up for an Akrapovic SP Titanium Slip-On Exhaust Kit
Happy Riding to all. Stay Safe.
Old and Lovely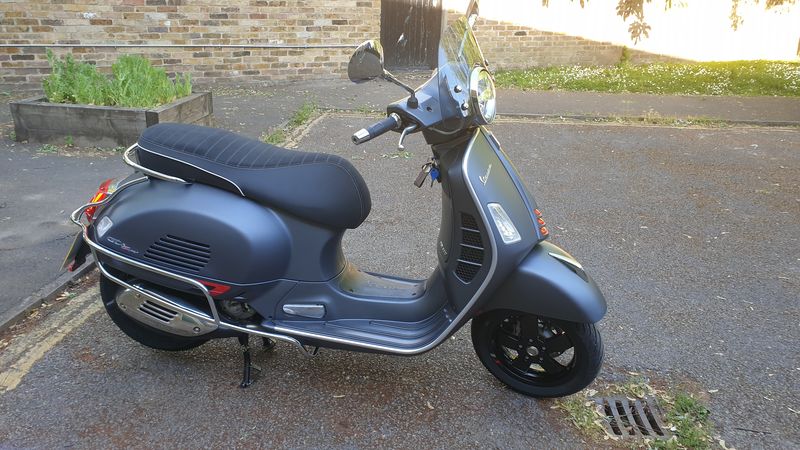 New and Naughty
Must Buy for every GTS HPE Owner