I have been reading on the Modern Vespa forum how all the people up north are starting to store their scooters for the winter and a few brave ones are fitting the snow tires and heated grips and heated everything. So, it made me want to appreciate our great weather and Florida and go for a ride and leave the construction behind.
I got permission from Larry to use the man cave, called a few riders, but only Bill was avialable for a ride. Bill is always available for a ride.
Fred is still in the Vespa hospital so I pulled out the one that started it all, Scoot. He has been mainly for around town since he got the "million dollar" paint job and the bigger faster scooters came along.
We hopped on the interstate and sort of held our own, though we are 10 to 20 mph's slower than the speed limit, but we are brave. First stop was Eurocycles, were Fred is, to drop the "brown" key off. This is the master key for the Vespa lock and is needed for special functions. Fred was comfortably setting in a container while all the other bikes were sitting in the open. Jason the service manager and I are pretty sure of what is wrong but Vespa makes him jump through lots of hop's before he gets to the problem that will cost them money to repair. He finally got the go ahead and we hope to be up and running next week.
Back on the expressway we were soon out of town and very little traffic. By three I was unlocking the cave and shortly after Bill rolled. A pee break and we were back on the scooters headed off to get some beer. Back at the cave we set around for awhile and then headed to downtown Newberry for dinner. Getting to the table was a little delayed when we ran into the Newberry Christmas Parade. A small but fun event.
Dinner tonight was the Back Yard BBQ. It has had a checkered past over the last couple of years and has changed hands several times and been closed for health issues. New owners are in but I am sad to say I don't think they will make. Food was less than average and the owner is being investigated for trafficking in child labor.
Sunday we rode up to the Stephan Foster State Park to see our friends Jim and Grace. They volunteer a few months of the year and stay in their camper in the park. This is Bill's territory and quickly planned a great back road route. When you ride up to the gate at the Park on a scooter the gate guard knows exactly where we are going, to see Jim the scooter guy, and waves us through. Jim and his neighbor a busy making Magic Reindeer Bells . Grace brings us out some homemade banana bread to snack on. After about a good visit Bill and I saddled up and said our goodbyes. Jim went off to his volunteer job at the black smith shop.
We stopped for lunch at a Italian restaurant owned by Mexicans. The spaghetti was good but swimming in sauce which would made a real Italian yell in protest. After lunch Bill headed home and I headed back to the cave. It was to late to ride on to St. Pete so I spent another night in the quite of the farm country with a bellowing cow every now and then.
I left early and chilly for home as the electricians had arrived and needed me to point and grunt for wiring questions. It quickly warmed up and the ride was uneventful but great for clearing the head to be ready to engage in new construction.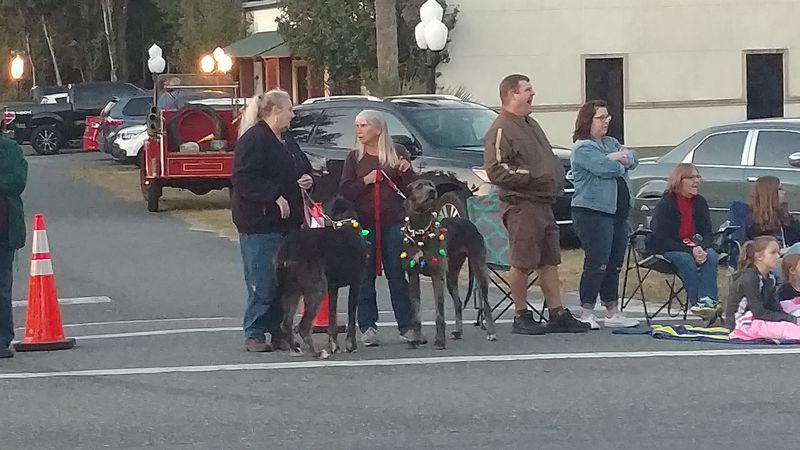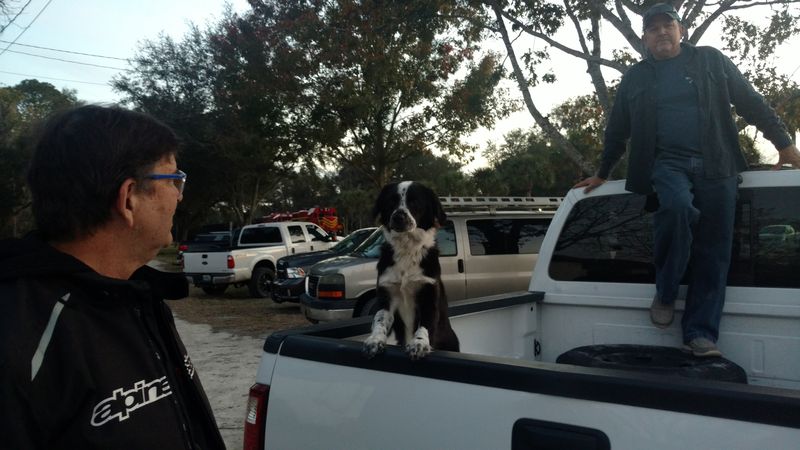 Bill make new friends with the parade watchers