Good morning I am new to the forum, my name is David from El Paso TX and I just recently got my hands on a 2005 Stella 2T (For 1000 DLL) some time later, I wanted to try to attach some kind of sidecar but I realized these are very hard to get for these Vespa style scooters. Long story short, I got a hold of a guy near phoenix (Camp Verde) who had this side car in his garage, which I later learned these are California sidecars (I believe this is the PARTNER model). He sold it to me for 1,100 DLL. I am not sure if I paid to much or too little. Only thing I knew was that I had been looking for this sidecar for almost 4 months without any luck so I didnt give it a second thought.
So I figured out how to attached it during last weekend and it seems that the attachment plate in the car comes with 4 pre-drilled holes that align with the bike's stand, so I removed the stand and attached the front holes and for the rear holes I had to drilled some new holes through the bike (See Picture). I made the holes a little bigger (5/16) and I used lock washers on top and bottom and of course the nuts. I am not sure if I need to do any type of alignment or use any other type of support or should I just trust my DYI abilities on this one. (Share any thoughts)
I have rode it twice with the sidecar without any issues. I am still learning how to drive with it and getting used to the momentum, but so far so good. I am also doing some upgrades, first I sent the leather seat, the cover and inside carpet of the sidecar to a place to remake them in same color as the seat in my Stella. I am also doing a paint job (white) and I am adding some features like a headlight and a stop and turning signal. I also bought a bluetooth sound system (not even sure if battery will handle this) and a windshield (A short version).
I also tried to find a white wall tire for the sidecar but had no luck the tire is 4.8 x 8 so I am not sure if I can change this size in order to replace with a white wall tire.
What do you think I should do with the rim on the side car because I am not diffing the chromed look that much.
I am very excited to share with you the pictures of our new ride
Under the Scooter. Plate had only 4 holes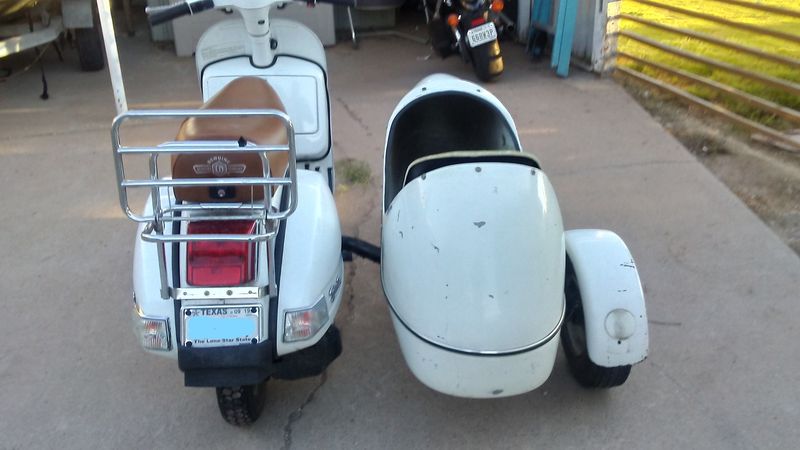 Last edited by poncho3101 on Wed Oct 10, 2018 1:54 pm; edited 1 time in total