A friend asked me to join his group for a canoe trip down the Green River. I didn't know where the Green River was, may-be in Utah, but saw it as a chance to go for a scooter ride. So that's what I did, and got back about 10 days ago. It's been a few years since I posted to Ride Reports, so I need to remind myself of how this is done.
The trip lasted two weeks. It covered the territory between the San Francisco Bay Area and the town of Green River, UT. I took a lot of pictures - too many for me to post in one sitting. So if it's not impolite, I'd like to post a few pictures a day over a three or four day period, breaking the trip up into getting there, being there and getting back.
This first part covers three days of riding between my home near SF and the town of Green River. I crossed California using two lane roads, mostly Hwy's 12 and 88. Nevada and Utah were all Hwy 50, also known as the Lincoln Hwy, and in Nevada, "The Loneliest Road in America." Hwy 50 is mostly two lanes with a 70 mph speed limit, except a 100 mile stretch in Utah where it combines with US 70 to be four lanes with a 80 mph limit. All of it a joy.
I haven't figured out a good way to plot on a map, but here you can see the outlines of the states. The black dots are where I spent the night. The blue line is the river trip and van back to the town of Green River.
This is crossing the Sierra Mountains on Hwy 88, near Caples Lake, a little south of Tahoe. There were thunderstorms for about an hour, with occasional heavy rain.
I realize this outfit looks pretty goofy, but it is a quick change and keeps me warm and dry.
The scooter looks somewhat loaded down, but it's well balanced and handles well. All the gear together weighs about 50 pounds.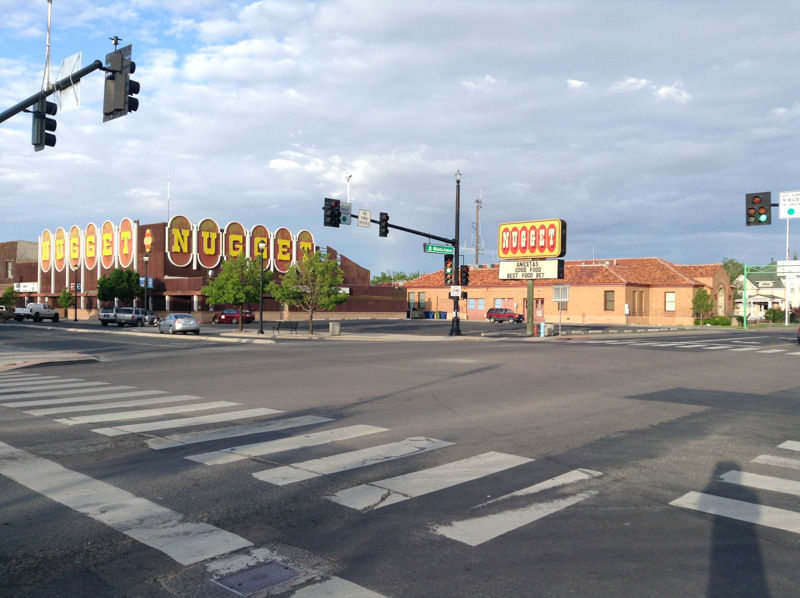 Fallon, Nevada...I love small towns.
The state of Nevada now promotes Hwy 50 as a tourist attraction, somewhat tongue-in-cheek. I'd recommend it.
I'd guess that I encountered less than ten vehicles per hour, both directions combined, on Hwy 50 in Nevada.
Stopped for an ice cream cone and to look around in Austin, NV.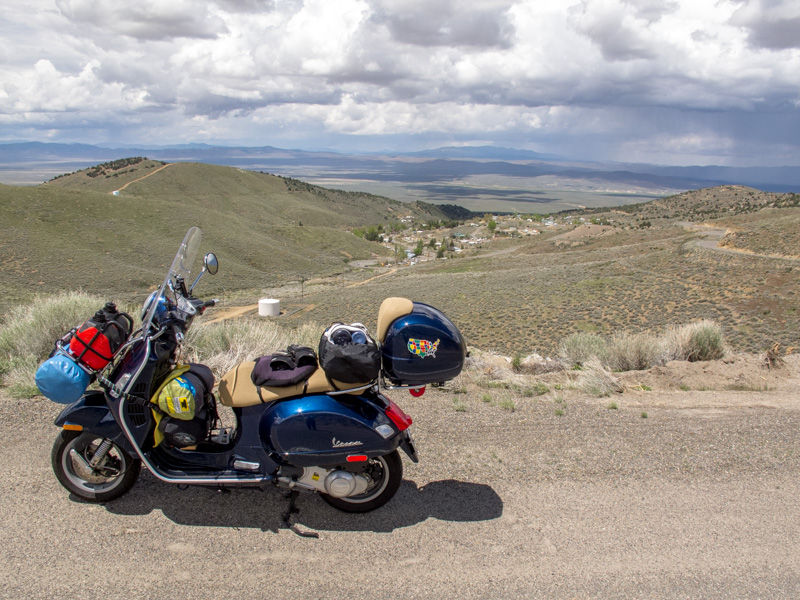 Austin in the background
Overnight at Great Basin National Park near the eastern border of Nevada
Servier Lake off to the right
Made a u-turn to go back and see this place.


Last edited by Bilbo on Tue Jun 19, 2018 10:23 am; edited 3 times in total