In May of 2017, I found and purchased a US 2005 PX150 which had only 368 miles on it (see photo below). I have never regretted buying this bike and love riding it. Since there has been some recent interest in the PX150 on this forum, I thought I would summarize what changes I did to my PX150 to make it perform even better. They are as follows:
Carburetor:
Main jet 102/E1/150
Idle jet 50/160
Idle mixture screw - 1/4 turn CCW from stock setting
Engine:
Spark Plug - NGK (7067) BR7HIX Iridium IX
https://www.amazon.com/gp/product/B000VZOW6W/ref=ppx_yo_dt_b_asin_title_o08_s00?ie=UTF8&psc=1
Fluids:
Autolube - Motul 104034 710 Synthetic 2T Motor Oil
https://www.amazon.com/gp/product/B00C739LTY/ref=ppx_yo_dt_b_asin_title_o04_s00?ie=UTF8&psc=1
Gear Box - Red Line Synthetic 50504 MT-85 75W85 GL-4
https://www.amazon.com/gp/product/B004D4URV6/ref=ppx_yo_dt_b_asin_title_o08_s00?ie=UTF8&psc=1
Gasoline - 93 octane
Muffler:
SIP Road 2
Tires:
SIP tubeless rims with tires mounted (see photos below).
The Nord-Lock Wedge-Locking washers supplied by SIP were also used when mounting the tires. For those not familiar with the Nord-Lock system, check out this video:
I can see other places on the Vespa where using the Nord-Lock washers would be advantages. The need to re-tighten nuts periodically would be eliminated. Amazon carries many different sizes of the Nord-Lock washer.
Overall, my PX150 is a real joy. I also have a Harley which can go from 0 to 90 mph in a heartbeat. But, I prefer riding my PX150 in the country to the Harley. It has all the power and torque I need and it performs flawlessly.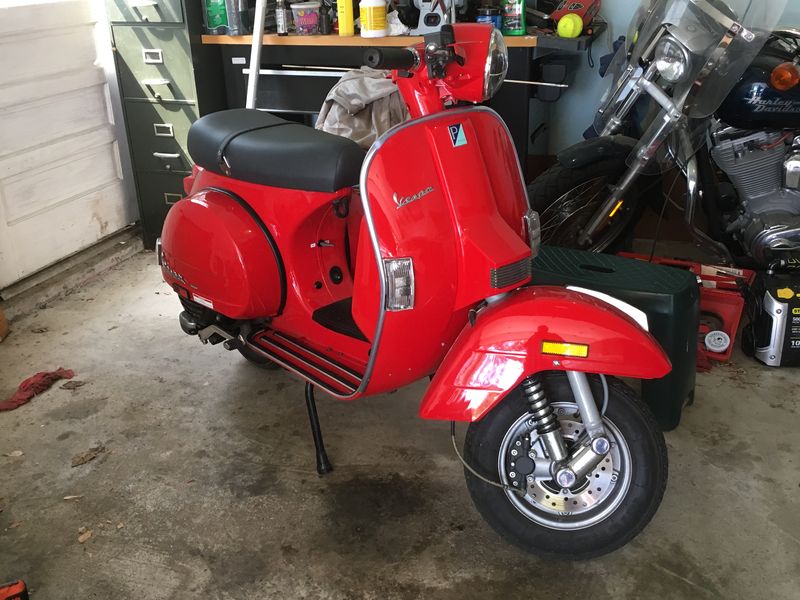 US 2005 PX150
SIP tubeless rim and tire.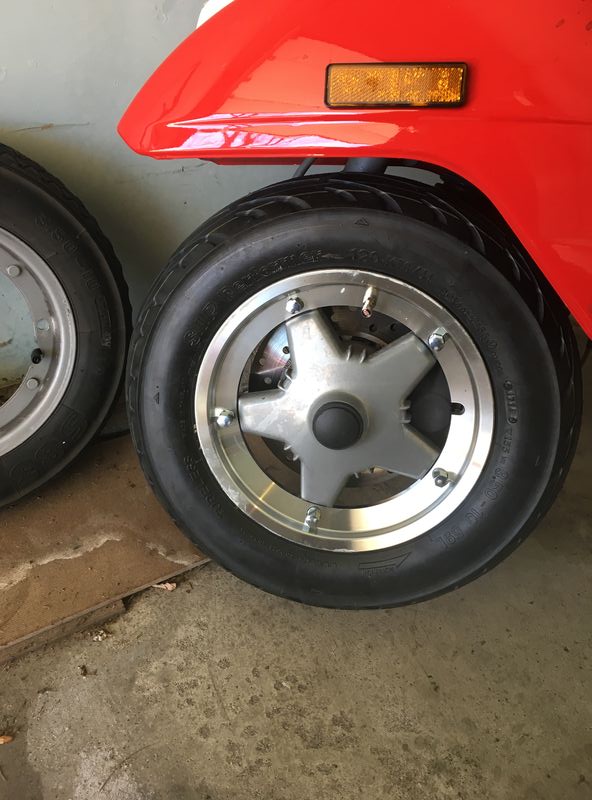 Mounted tubeless rim and tire on PX150.