It's the end of my Summer at work, and my last "every Friday" off (we work 4x10's in the Summer), so I thought I'd take a short jaunt out of town. Had to stick around the house for a few honey-do's first. Got the chimney swept/cleaned, had the car tires rotated, hooked up the small trailer to get hay for the horse...
So, I took the GTV down to Big Pine, for no real reason other than it's out of town. I rode out to the "Big Ears," or the Owens Valley Radio Observatory. It's a large radio telescope array here in Owens Valley. Here's a link to what they're about:
https://en.wikipedia.org/wiki/Owens_Valley_Radio_Observatory
Since I was there, I stopped at the "Best Restaurant in America!" Yes, really. It was designated as such by Yelp in 2015. It used to be a small drive through coffee kiosk called, "Inyo Cup" (Big Pine is in Inyo County), which went out of business just a year or so after it opened. A BBQ restauranteur from Southern California bought the facility and reopened it as "
Copper Top BBQ
." It's a bit of a Yelp-victim these days, as it is usually quite crowded with tourists driving through Big Pine. It's good BBQ, but since it's out of my way, sort of expensive, and crowded, I rarely go there. I usually pick up a full rack of ribs from
Holy Smoke BBQ
in Bishop.
Here's a short video of the radio array;
If your browser hates you:
YouTube Link
It was nice to get out of town, if only for an afternoon...
The GTV in front of the largest dish at OVRO.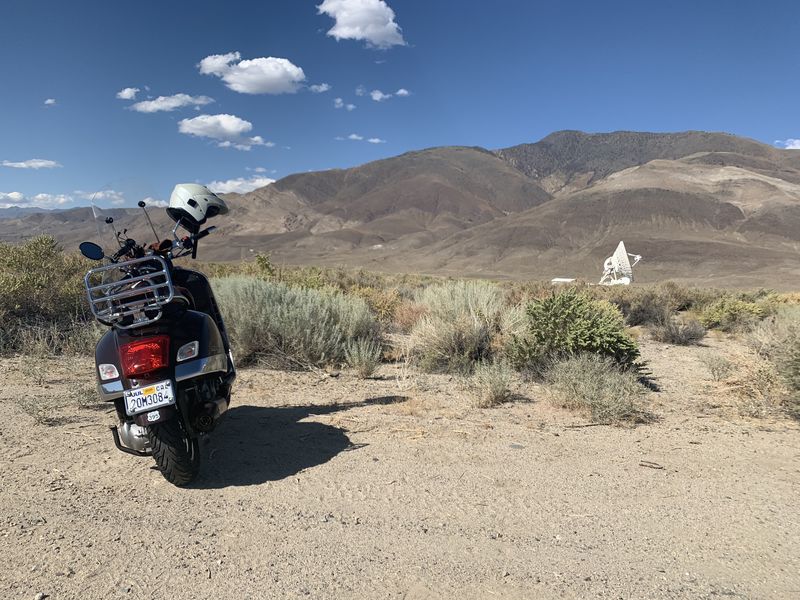 This smaller dish is pointed South.
Wider view, showing the other radio dishes in the array
Yup, the BEST RESTAURANT IN AMERICA! Well, according to Yelp, in 2015, anyway...