I had been thinking that it would be a fun way to see the entire state of Florida by visiting the county seats of all 67 counties. And the best building in most of these towns is the county courthouse.
So Ken and I begin with five counties near Lake Okeechobee.
The idea would be to park our scooters in front of each of them as we ride the state.
It was an especially good idea for me as I am an architect practicing occasionally in the field of architectural preservation. I always admire the courthouses when riding past. It was time to see them close
This weekend kicked it off.
We started at the Jacaranda Hotel in Avon Park.
The first courthouse heading south is the Highlands County Courthouse in Sebring.
We stopped there and as we were taking photos, a dapper attorney was passing by. Ken asked if he would pose for a few shots and he obliged nicely.
We stayed outside but between that and the next one, Ken decided that we should go inside each.
Next was the Okeechobee County Courthouse in Okeechobee. This is one where the old, historic courthouse became too small for the bustling community, so they built a new, totally architecturally inferior building as a replacement. Disappointed, we took a few photos of this mess, but as we were riding out, I noticed a fine building that had to have been the County Courthouse that was replaced. So we stopped there and found that it was. An attorney leaving the building, and a plaque let us know that we were right. We went inside, admired the detailing and design and headed to the next one.
That was the Glades County Courthouse in Moore Haven. It is a historic courthouse with the classic Greek Temple front with a yellow brick body.
We went inside and were given a tour by a police officer who had worked there for 18 years. He offered the history and a bit about himself. These interactions are what makes these trips so enriching.
Stop number four was to the Hendry County Courthouse in LaBelle. This one was designed in a more Romanesque style, using a buff brick with spiral limestone columns at the entry. It was wet and we parked the scooters on the sidewalk. While standing there, a police officer rode up with here lights flashing, just to ask if we were OK. I missed the photo, but it was typical of our encounters with law enforcement during the day.
Our last stop was in Arcadia at the Desoto County Courthouse. This one was my favorite of the day. It had a beautifully proportioned and detailed Greek Temple front with brick and stone detailing on the remainder of the exterior. Stone pilasters were spaced around the exterior, making for a perfect courthouse design.
We got a tour of this one too, with a police officer who had been there for four years. He started his law enforcement career in the Florida Highway Patrol but quit when they wanted to send him to Jacksonville. He worked in several police departments over the years before settling in Desoto County.
The interior was as nice as the exterior, beautifully maintained for a 107 year old building.
Five down, 62 to go. Looking forward to seeing more over the next year or so.
Bill
Highlands County Courthouse with a dapper attorney posing with the scooters.
Okeechobee County
Hiding from the rain on the way to Moore Haven.
Glades County Courthouse in Moore Haven.
Hendry County Courthouse in LaBelle
My favorite of the day, Desoto County Courthouse in Arcadia.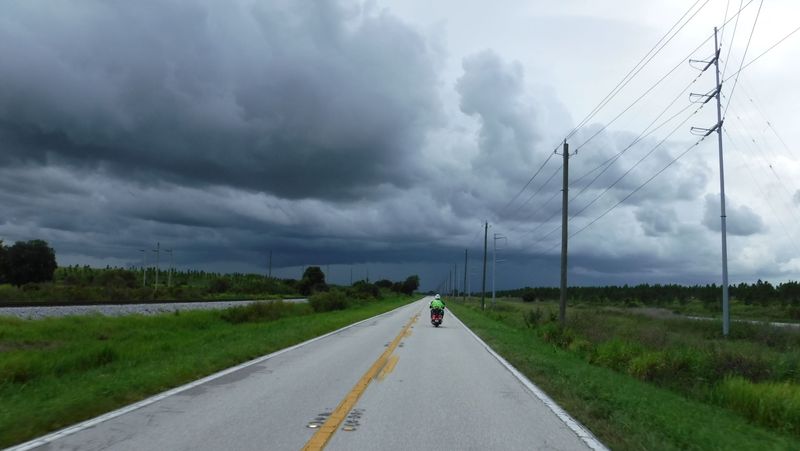 Day two, skirting storms heading to Streamsong resort for a brief visit.
Riding up to the Lodge at Streamsong, a well designed modern hotel in the middle of nowhere. I felt like it could belong in a James Bond movie.
Heading to Arcadia for the night. We arrived at the hotel just minutes before the bottom dropped oiut.