Two years ago, I acquired a nearly new US 2005 PX150 (see photo). It had just 368 miles on it. I put on a SIP Road 2 muffler and re-jetted it (102/E1/150 main and a 50/160 slow idle jet). It ran great with a quick throttle response and strong pull throughout the throttle range. After nearly 4000 miles riding this bike, today with the temp at 75 degrees and riding on a level road at about 40 mph, I noticed a pull on the forward motion of the bike. It was like the brakes were being applied. Then after a few seconds, the pull become really bad and the bike was going to come to a screeching stop. I pulled in the clutch and the bike became a free rolling vehicle, the engine was dead. As I coasted to a near stop, I put it in 3rd gear and released the clutch. The engine started and I was able to ride it back home. This appears to have been a soft seize.
What caused this soft seize is unknown. This has never happened before and the bike has been running great for the past 4000 miles. Could my mid-range be too lean? I had installed the 50/160 slow idle jet which is on the lean side. I have in the past tried the richer 55/160 but the bike never ran good with it. The E1 atomizer is also lean but the bike did not run better when I tried the richer BE3. Then again, maybe an air leak occurred making the engine run lean. However, I did re-torque the two carb bolts to 11 ft lbs just 400 miles ago. Regardless, I must now find the cause and fix it. For starters, I will up the jets in the middle range and check the spark plug. As it stands now, my PX150 is not dependable for regular rides in the country.
If anyone has encountered this problem with their 2005 PX150s and has suggestions where I should start testing or jetting I should try, I would be most grateful.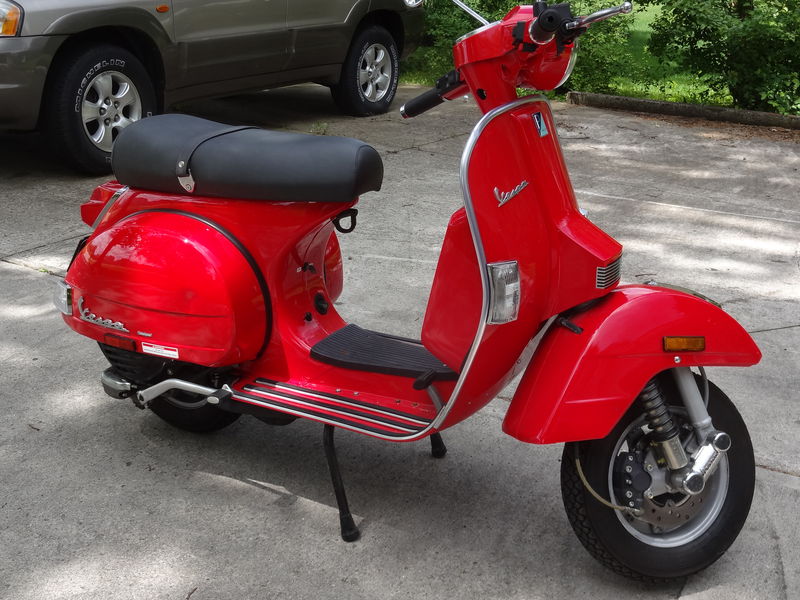 US 2005 PX150 Vespa.