Last weekend I took the Vespa for a relaxing sunny ride from Naples down to Goodland. We used to launch our boat from the Calusa marina a few years ago (The Whaler is long gone...now I have a scoot to occupy my weekends). I ended up at the beautiful new County boat launch facility where I just hung out and watched the boat traffic go by. Goodland is still the same sleepy Olde Florida waterfront burg nestled amongst the mangroves and brackish Everglades waters it always was - birds, bugs, gators, fish, fishers, etc. What a great ride.
When I got back home there was a surprise package at the front door - a new Akropovic exhaust! I couldn't wait to install it and took a few pics along the way.
I love getting late Christmas presents like this.
The box was kind of broken in the middle, and the styrofoam packing as well, but contents were in perfect shape.
Stock exhaust is pretty, but definitely not as cool looking (or sounding) as the Akra.
Removal was pretty straightforward after a run to the hardware store to buy a T-40 Torx socket bit. I also had to buy a hex socket bit (I forget the size) to install the new unit. The stock unit is heavy.
The naked header pipe after taking off the OEM exhaust.
You can see the gasket, the one you're supposed to replace when removing the OEM exhaust, down in the pipe. It came off with the pipe.
this is what is left after removal.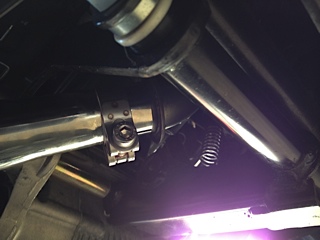 New downpipe connected to header. I left all connections slightly loose until all pieces were in place.
Bolt with big spacer goes to upper connection point.
Bolt with smaller spacer goes to lower connection point.
Everything in place.
This exhaust is extremely well made, something that doesn't translate so well with online pics.
best looking unit for the GTS300 currently available, IMHO.
The can just slips over the down pipe, with a couple of springs clipped on. VERY easy install. I spent more time cleaning the surfaces than I did actual wrenching. Clean all metal parts well prior to first start up, as any dirt, oil, fingerprints, etc. ca
With the db killer left in the exhaust note is more muscular and growl-like than stock. It gets better after a few hours too.