Longtime lurker; first post.
I've had this bike for about 13 years. I traded a broken 1993 Sportster for it. Previous to this, I've had a fair number of P200s, a Prima Vera, and a '62 VNB. I also have a Stella 2T 150 in pretty good shape.
So, anyhow. The bike's history: PA is where I got it, but at some point it was up in the North East based on paperwork. I also found an old blogspot where the bike was for sale in mid2000s. The post said it was expertly rebuilt. Yeah, fucking right - read on!
I always hated the bike color (puke aqua green with super fine flake). The headset was Frankensteined on; looks to be possibly a Rally headset. Whomever restored it put a polished aluminum shielding between the floor strips and the body (probably to hide the minor pitting). A few unnecessary drilled holes here and there. In short: it looked totally fucking hideous but everything else was mostly original behind the scenes and under the proverbial hood. With the bike came crate of odds and ends including the OG headset.
So I brought it home wayback when, cleaned out the carb, got it running... And laid it down going 5mph over a patch of clay in the road. Thanks, Verizon, for digging up my neighbors yard and leaving clay and dirt everywhere. The damage sustained to the bike was minimal, but the leg shield had twisted a touch; engine side cowl was dinged up too. I decided to put in the garage and ignored it until COVID made me bored as fuck.
Now we're here. Had my buddy help me get the mechanics in order. Split the cases and it's all fucked up. Had to bore out the cylinder due to rust (seized). Piston was missing a ring. Oil seal was straight up missing. Piston itself was cracked and blasted but... the cylinder doesn't have a matching blast point. I suspect the genius who had it before stuck in a busted piston but who knows. Long story short, I ordered a ton of parts from Scooter Centre and Alex in SD (I'm a SD native) - cables, bearing kit, piston, cosmetic parts, etc. You know how it is.
After everything was stripped off, got to work on the cosmetics. First, we were able to bang, fill, and sand mostly everything into shape. Had to grind off all the adhesive from the shielding under the floor strips. Had to get a new gas tank since the one that came with the bike had developed a sludge due to some sort of coating the previous owner had in there. The OG headset was covered in .25 inch of latex, of the household variety so we sanded all that shit off (not fun).
Paint was a challenge because neither of us are really experienced with HVLP or any semi-pro type shit. I eschewed the idea of rattle canning this monstrosity. We're already here; let's do it right. So my father in law got in on the action since he used to do up hotrods in the 70s. I chose a urethane 3 stage (edit: its not 3 stage) paint and clear coat off TCP. My wife wanted metallic but I preferred something more period correct. I'm happy with this midnight blue.
Anyhow, see the pics. Tell me what you think. I'll update as I go along from here. I figure I'm about halfway done. Still ordering parts as we find other shot shit. Hopefully can get this done before year's end; but then again it'll be winter so who cares.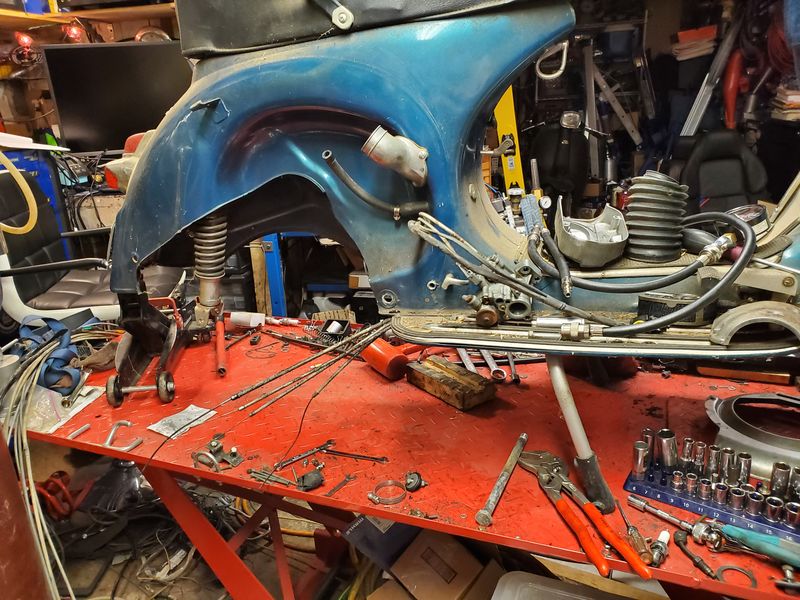 Last edited by HiFructosePr0nSyrup on Sun Oct 25, 2020 6:11 pm; edited 1 time in total