Hello Everyone,
Today I took a solo ride from Poway up to Julian, CA. It's only a 35 mile trip, but I took my time and stretched it out to about an 1 ½ since I stopped for lunch for lunch in Ramona. During my lunch at Wendy's a couple of the Senior Volunteer Police Officers were oggeling over my GTS, it was a crack up. The rest of the of my ride from Ramona to Julian was great since there are lots of twisties and not too many cars around so I could take my time and not have to worry about tailgaters. I made it up to Julian and there were no Vespas in sight so I grabbed a small snack, root beer, and a patch of shade under a tree out in front of Julian cupcake Co. Relaxed there for about 45 minutes before people from the ride showed up and started taking up positions along the sidewalks with their rides. Finally got my lazy butt up and walked over to take some pictures but didn't feel like gearing up to move my GTS over with the rest of the pack. Hung out a few minutes taking pictures and decided to start heading home since I wanted to make a couple of stops to pick up some baked goods while I was in the area. Had a good time riding solo and the GTS was great, however a windscreen would have been nice since I feel a little beat up from the wind!
Enjoy the pics. I saved them in a low resolution size, but if you would like the high res version, PM me and I will forward them to you.
my GTS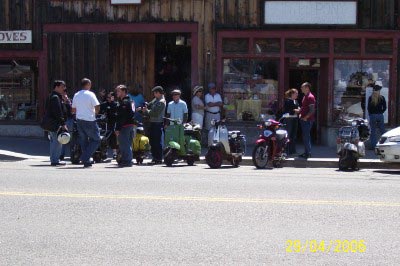 Riders and rides for the Pied Ride
More scoots
More scoots and a sweet motorcycle
and another scooter with a BMW next to it... Think it was a BMW
and some more....