I have been hunting for boots with a higher heel, NOT ezy to find. This is one pair I came across that has protection I'm looking 4 as well.
How high does this heel look to you guys, and.................does anyone out there have these?
Dainese Dainesella Ladies Water Proof Boots
Dainese Dainesella
Would you guess 2 inches ??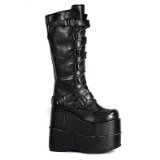 Not this high! Come on now


Last edited by SkyMiZeR on Wed Sep 16, 2009 7:31 am; edited 6 times in total