I set out today at 6:15 am and headed north. I decided to take the long way but twisty way up to I-5 from Napa, so I took Silverado Trail up to Chiles Valley Road. From there I took Pope Valley road toward Middletown. I stopped to help a lady change a flat tire on her car because there is no cell coverage in Pope Valley and I couldn't leave her there. After a bunch of snags in the tire change I was back on the road a mere 40 minutes later. Once I passed Middletown I saw a poor soul that had run out of gas, so I stopped and gave him the gallon I was carrying on my bike. Then I was on my way to Williams via Highway 20. The road was Awesome!!! I hadn't been on it in years and they had recently paved a bunch of it and widened it in places as well. It was smooth as butter and a lot of fun to ride. I gassed up at Williams and hit I-5 on my way to Red Bluff. Just over an hour later and I was in Red Bluff at 10:30am~ and stopped for gas and some food. I noticed the local Vespa dealership so I snapped a picture.
From there it was on to the BEST motorcycle road I've ever ridden. Highway 36!!! I stopped for the obligatory pictures at the best sign ever! I got to the sign just as another motorcyclist was finishing his photo shoot, and when I was pulling away a couple more riders were stopping to take their pictures. Highway 36 is so frickin' fun I don't even know how to describe it. The first section out of Red Bluff was probably my favorite. The oak trees and roller coaster like swooping twisties were like nothing I'd ever ridden before. I stopped for gas in Platina beause I wasn't sure if there was any other gas for a while. It turns out that there was another station just a few miles up the road that would have been a better stopping place. When I passed that service station I noticed a Goldwing with a trailer that I'd seen earlier while I was filling up. A couple miles down the road I stopped to take a picture and the Goldwing came zooming by. I really wanted to see how the trailer tracked behind that big bike so the chase was on. It took me quite a while to catch him but once I did I think I unknowingly started a bit of a race. The Goldwing rider (and his passenger) kicked into high gear and took off, so I push my little GT as hard as it would go and kept pace with him. The only time I've ever ridden that hard to keep up with someone was when I tried to go head to head with Glasseye and OopsClunkThud. The Goldwing pilot was an excellent rider and he made it look so easy with a passenger and a trailer. The only time I felt at a disadvantage was when he gunned it on the uphills. There was no way my GT could keep up with that, so I had to make up for it on the flats and downhills. When he finally turned off to what I can only imagine was going to be his camping site for the weekend he gave me a good wave as if to say "thanks for the spirited chase." After that it was on to the goat trail part of HWY 36. The two lane road turns into 1 land and back to 2 for about 10 miles or so. The road was still wide enough to get around the occasional truck pulling a boat and the conditions were still pretty good. It turned back into a two lanes and I found myself coming down a hill and making a pretty sharp left hander and then it happened! I hit my center stand and my back tire jumped out about a foot and I hit the stand again and my back tire chirped again and then I regained traction. I didn't have enough time to get worked up about it but rather I thought it was odd that it happend at all. I turned around and went back to the scene and noticed that there were some raised sections of asphalt caused by the indentations of larger vehicle tires. My center stand had hit on those raised areas because my tires were down in the indentation. I hadn't noticed the road being at all bad as I was making the initial turn and probably wouldn't notice it if I were to do it again tomorrow, so it was just one of those things that could have gone bad and luckily turned out OK. I was a bit more AWAKE at that point but only had a few more miles before I hit HWY 101.
I thought HWY 36 would take me right through Fortuna so I wasn't worried about gas. Well I stayed on 36 proper and found myself hitting 101 at Alton, which is just a couple miles South of Fortuna. I didn't feel like back tracking so I just hopped on 101 and headed South. I wasn't too worried because I had refilled my 1 gallon can and knew that Garberville had gas if I could just get there. I got to Garberville without needing my extra gas can and put 2.48 gallons in my GT. That was the most gas I'd ever put in my bike, so I know I was low. That danged low fuel light had me worred for a while.
I made my way down 101 to Ukiah and got gas again and then headed on to Alexander Valley. I wound my way into Calistoga and stopped for some BBQ at Buster's. YUM!!! Then I just followed the tourist traffic down the Napa Valley all the way home. I arrived home at 6:35pm and put a total of 542 miles my bike and my butt today in just over 12 hours.
For anyone in range of Highway 36, you should really take the time to ride this road. It is by far my favorite motorcycle road I've ever been on. I'll do it again some day for sure!!! I took a few pics along the way. Enjoy.
Starting Odometer
Ending Odometer
Lake Hennesey in the early morning with the moon still out.
Just a fun shot.
Some ducks making waves.
This shadow kept following me!
Sun up in Pope Valley.
Red Bluff's Vespa dealer, and a few other brands.
Obligatory picture by the infamous sign.
Just for fun!
This shot makes 36 look boring. IT'S NOT!!!!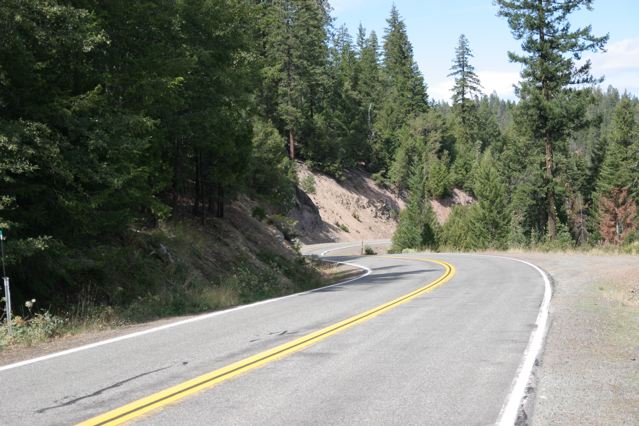 Where the Goldwing zoomed by me.


Last edited by Mesmer on Mon Sep 07, 2009 12:29 pm; edited 1 time in total