Last weekend I took Friday and Monday off to travel south from San Francisco to San Jose and then East over Mt Hamilton , into Del Puerto Canyon. It was about 160 miles. Due to bad weather Monday I came back Sunday. Before the ride , I got a huge amount of advice on this thread:
http://modernvespa.com/forum/topic65410?highlight=modesto
. Thanks to all. I took a route similar to the second one posted on the thread.
After the 280, I got on to Skyline where this photo was taken. Skyline was very foggy early on, so I put on a high visibility vest for the section before Alice's Restaurant.
This is Quimby road, a narrow windy road that was great fun to ride.
Quimby road again.
View of San Jose from Quimby
Going up Mt Hamilton. Great Weather , not one on the road.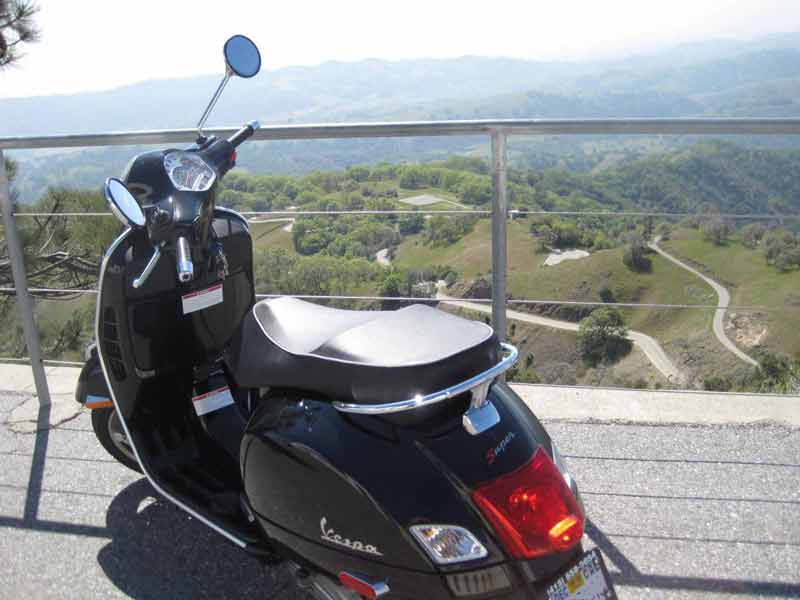 Looking down from the James Lick Observatory car park at the roads I came up. I did the tour in the Observatory and it was worth the stop.
This is the other side of Mt Hamilton. I took this on Sunday on my way back.
Other side of Mt Hamilton again on Sunday. There was more traffic on Sunday,but still light. I saw deer around this point on Friday.
Meadow area when I came down a bit in altitude.
I stopped here because there was a bald eagle on the left edge. He lifted off and tried to scoop something from the pond. Further down the road there we boar, about a dozen.
This is Del Puerto Canyon.
Another shot in Del Puerto Canyon.
In Modesto, I grabbed a Root Beer Float at A&W and thought about American Graffiti.