GTS musings - MP3 rim clearance, City Grips, wobble.
Yesterday I started to ponder when reading of a fellow MVers who was having clearance problems with some MP3 rims fitted to their GTS. Some 4,000 miles ago I fitted Dimples with an MP3 (NOT the LT) rim as the shop didn't have any spare GTS ones to hand, complete with a rear Michelin City Grip tyre. The bike had a small discernible wobble beforehand (fitted with top-box, heavy bar-end weights) - which during our last long trip (2,900 miles, heavily laden) became a lot more noticeable. This was with a Pirelli GTS23 tyre up front, which was shagged out by the end of the journey. That was replaced with a new City Grip, and the wobble was no better, no worse.
I had already fitted the old GTS rim with a new rear MCG, so this morning I put it on - to help check clearances amongst other things. Wobble nearly completely gone - better than ever before!
The rear MCG on the MP3 rim, despite being good for another 4,000 miles in all probability, had some cupping and feathering which would just be one the edges of the straight-ahead contact patch. So I'm now thinking most of the wobble *I* have experienced has all been due to issues at the back-end, and nothing to do with the front. Next step is to get some stiffer buffers at the top of the rear shocks, to see if that has any effect.
Now to the MP3 rim part - yes, it has slightly different dimensions to the GTS rim - and although mine had a 0.5mm clearance to the exhaust support arm, I note some other folk have had no clearance at all - this could just be down to manufacturing tolerances or paint finishes. Suffice to say my MP3 rim has 5mm more 'meat' between the inside mounting flats and the outside of the central hole. This can cause binding if some bike's individual tolerances all conspire in the same 'wrong' direction. Pictures below:
MP3 rim - 0.5mm clearance
Cupping and feathering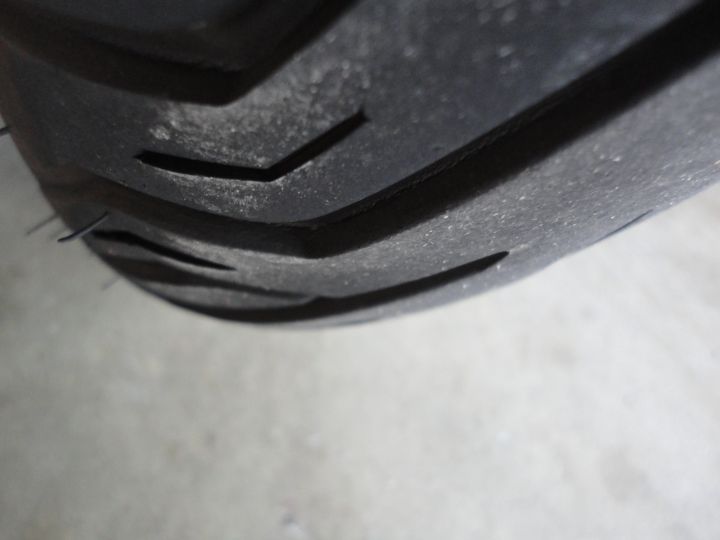 More MCG cupping etc (4,000 miles)
Tyre outer to outer rim - GTS rim
Tyre to inner flats - GTS rim
GTS rim - 3mm clearance
MP3 rim - tyre to outer rim
MP3 rim - tyre to inner flats