I installed a GTV top case on my LXV, because I preferred the styling of the case, and wanted to match more of the styling of the GTV.
Here are some pics of the pair of 2012 espresso scoots.
I used the same bracket as the GTV or GTS, part number 623699.
The curvature of the tubulars on the rack were a bit more sharp, so that only required a little hacksaw or steak knife to the bracket plastic edges, giving a custom fit. I made two cuts in a "V" shape to the bracket, then snapped off the cut with pliers.
Procedure:
1. Assumes you have installed an LX/LXV 150 rack on your scoot. Install as necessary, if it fits your scoot.
2. Place the clamshell GTS/GTV top case bracket (black plastic) over the rack, in its "down" position.After you do that, you will notice that the rack tube steel curves too sharply for the bracket to completely fit. While holding the clamshell over the position it needs to go, use a pencil to draw the cutaway shape on the plastic.
3. With a serrated knife (such as a common steak knife), saw away the excess plastic to match the curvature of the S 150 rack. Steel shears may be used also. Be patient, and chew away small bits at a time. Repeat process of holding the clamshell half over the rack often, to check your progress. Shape both sides the same way.
4. Once you have the clamshell bolted together (which holds the rack down), you are in the final stretch. Install the screw clips into the three positions on the clamshell, which will be for the bolts. Thread bolts through the clamshell from the top without the case first, to make sure they will go. Remove the bolts.
5. Note the corresponding holes in the plastic top case. If the holes have not been drilled out, drill (or with the point of your knife) make the holes. Drop/screw the bolts through the top case holes (I recommend washers just under the bolt heads also).
6. Place the top case on the rack, fishing the bolts into their respective holes, and into the nuts on the bottom. The top case must feel firm, so wiggle the case down firm to make it through the bolt holes. When you are done, there should be no "play" in the case.
The top case sits on the LXV just a bit more back than on a GTV. This is OK, since even the GTV has clearance, and the LXV passenger gets a little more room.
Underside of the LXV. Bracket modified for the rack curvature (bottom left and right of the bracket in the photo). Compare these points to the GTV underside.
Underside of the LXV top case.
Underside of the GTV top case.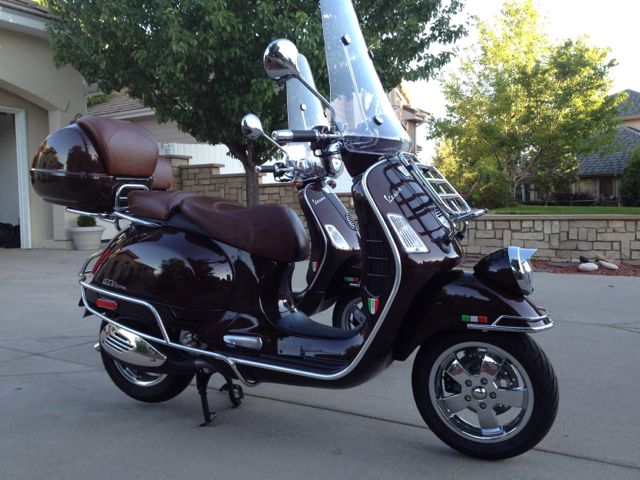 Note the stick-on chrome clock. The LXV does not come with a clock due to the "vintage" dash.


Last edited by sharpcolorado on Sat Mar 08, 2014 9:58 am; edited 5 times in total