Overview
A simple two tone horn upgrade which uses the original horn and an additonal simple automotive horn which only requires the removal of the horn cover and the battery cover.
Required items:
Simple automotive horn such as the Acumen:
A four terminal automotive relay
Some spade terminals
Some high current wire to run from the battery with a 15 amp
Blade fuse holder
Two ring terminals for connection to the battery and chassis at the horn
This is the end result: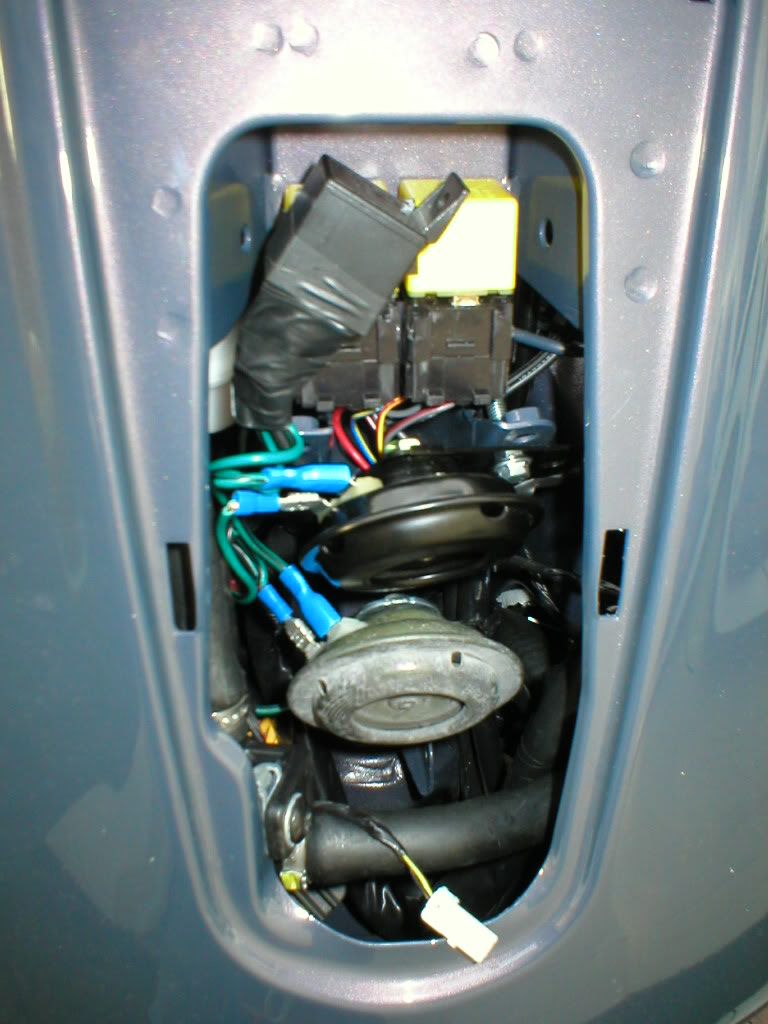 And this is a simplified wiring diagram: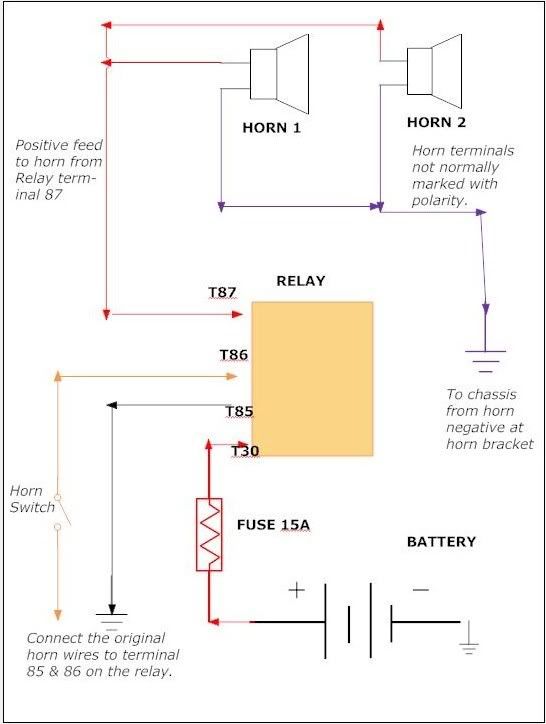 Disassembly
Remove the Piaggio badge on the front of the horncover.

Remove the revealed screw and the horncover itself.

Remove the battery cover on the floorboard for GTS models.

Wiring
You need to supply a high current fused feed from the battery, which is done by feeding a wire from the battery area up into the glovebox. This wire should be protected by a 15 amp in line fuse at the battery end (the standard horn is fused at 7.5 amps). It is relatively simple to feed some stiff, flexible steel braided cable up from the battery area and pull the feed cable up from the glovebox area via the horncover opening. A ring terminal should be used to connect this fused cable to the battery. Do not connect to the battery yet as you need to complete the other wiring first.

Disconncect the two cables from the standard horn. On the GTS these cables are yellow and black. These two connectors can be applied directly to terminals 85 and 86 on the relay. It doesn't matter which way around the connectors are applied.

The feed from the battery should now have a spade terminal applied and connected to terminal 30 on the relay.

The second horn can be mounted above the first.

Connecting the horns
Normally the horn terminals are not marked with a polarity.
The negative terminal of each horn should be connected directly to the chassis. This is easily achieved with the bolt that mounts the original horn. Use some high current wire and crimp a ring terminal to it and piggy back this wire to the two negative terminals of the horns using spade connectors.

For the positive connectors of the horns, use terminal 87 of the relay, which is the positive switched feed and connect a wire from this terminal to both horn positive terminals using three spade connectors.

Tidy up the wiring and connect to the battery.

You can now turn on the ignition to test the horns.

Reassembly
This involves tidying up the wiring and making sure nothing fouls the battery cover or the horn cover when replacing them.

There should be plenty of room beneath the horncovers of all modern Vespa models, although in the case of the LX and the ET, the distance from the battery is much greater!

Last Updated Sat Nov 21, 2009 1:51 pm