So, it was another beautiful day in the Owens Valley, and what is there to do but ride it out? I gave thought to a couple of the more desolate locations (Bishop is sort of in the middle of nowhere - more than 2 hours drive to any town more than 10,000 population). I thought maybe out to Tonopah Nevada (home of the infamous
Clown Motel.
. There's also the Fish Lake Valley ride, through a very dry, very long, very "rural Nevada" kind of ride to
Dyer, NV.
But, perhaps some other day, when it was less hot. I decided to head up to the Ancient Bristlecone Pine forest, home of some of the oldest living things on earth. It's not too far from home. Big Pine, California, is just 15 miles south of Bishop, and you head east on Hwy 168 up to Westgard pass, and ride up to over 10,000 feet elevation, where the seasonal visitor center is.
Once there, you have a choice of two different hikes. One is a relatively easy hike of a 1-mile loop. The other takes you through Schulman Grove, home of trees older than the pyramids. Methuselah, one of the oldest, is just over 4,800 years old.
Bristlecone pine trees hold their needles about 40 years before they grow new ones. They put on about an inch of girth every 100 years. So, if you see a tree over 30 inches radius, you're looking at something that has grown in that place for over 3,000 years!
I hiked the Methuselah trail, which I've done a couple of times before. Four miles at 10,000 feet can really take it out of you. I brought a liter of water, but it wasn't enough. The only potable water is sold at the visitor center, so plan accordingly.
As always, the hike was beautiful. From many spots on the trail, you can look west back into Owens Valley, or east into Nevada (Fish Lake Valley, Deep Springs, etc.). For those of you who haven't heard of it,
Deep Springs College
is the most exclusive 2-year college in the USA, and is a unique experience for its graduates. I happen to know a couple of folks who worked there, and live in Bishop now. It's pretty interesting.
Anyway, the visitor center is brand new. It burned down a couple of years back (suspected arson), so it's a new facility, and the rangers are great. If you see Dave Hardin, he's a retired middle school teacher from Bishop, and *loves* talking to visitors about Bristlecone biology. You'll learn a LOT from the friendliest ranger in the Forest Service.
I spent the day hiking, and rode the long, twisty road back to Big Pine, then home to Bishop. Enjoy the pics, and get out there and ride!
This was the route from home and back again.
Carrol's Market in Big Pine. The only grocery in town, and where I bought my water. Nice place to stock up before heading up. It's also the closest!
The GTV at the big pine, in Big Pine. This giant Sequoia was planted in 1913, dedicated to Teddy Roosevelt. It marks the intersection of Highway 395, and Highway 168, the latter which goes up to the Bristlecone Pine forest.
Dave Hardin, the friendliest ranger around, teaching visitors all about Bristlecone biology.
The new visitor center, built a couple of years ago, after someone burned down the old one.
The trailhead to the Methuselah Trail. About 4.5 miles, which at over 10,000 feet elevation, is harder than it sounds.
These are the "young" bristlecones, near the visitor center. Interestingly, because these are closer to water and wind-shaded, they will die long before the longest-living bristlecones. The longest-lived bristlecones are in the harshest location
Why are they called bristlecones? Because their cones have these bristles on 'em! They also have purple cones, and are really sappy.
Looking up at an ancient one. You can see that the trees more than a thousand years old often only have one strip of bark, which provides enough nutrients in this alkaline soil to allow it to reproduce, and survive.
This bristlecone remnant has been here for thousands of years. Deep Springs valley, Nevada, in the distance (the white lakebed is Deep Springs). The college is to the left of it
Not much can grow, much less thrive, in this harsh environment. Lichen, growing on the rocks at the base of a bristlecone outcrop.
Who knows what this rock looked like a few thousand years back, when this tree first took root. Now, it hangs tenaciously to the bare rock face...
Wind, ice, snow, sand, all work over the eons to sculpt the rock-hard wood of bristlecone pines, to form this natural abstract artwork.
Scientists from the White Mountain Research Station often tag deadfall for research. Don't touch or move!
Another ancient one - this specimen close to the visitor center.
The GTV at the visitor center, ready to head home...
Looking northwest, back toward Bishop (in the valley floor). Not a bad view, right?
Looking southwest over Owens Valley. The Sierra Nevada, still with some snow in late July, preside over the horizon.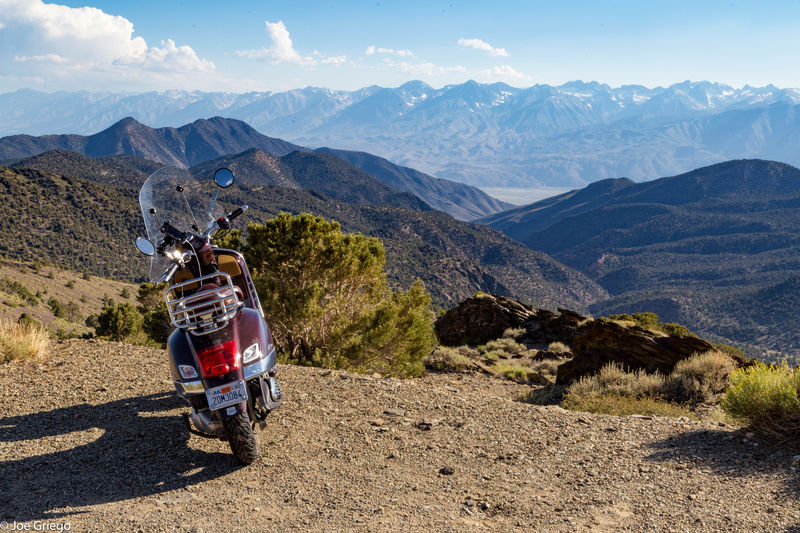 Heading home, and stopped for one last look at 10,000 feet. The GTV still rides just fine at elevation. So long, from the Bristlecone Pine forest, White Mountains, California.
The "picture frame" branches. Tourists like taking photos here - interesting branches, and it's right on the Methuselah trail.


Last edited by biffnix on Mon Jul 31, 2017 5:48 am; edited 1 time in total