The Leo Vince pipe finally arrived!
So I went and picked it up and got to work.
The breaker bar made short work of the exhaust bolts on the BV - didn't have one before and I have to say - this tool is invaluable!
Removal of the stock exhaust was simple enough. Then I partially installed the pipe - so I could get the muffler on there. The only issue I had was that the bolts included for the re-installation of the muffler with the adapter plate are too long for the BV - the pipe is the same one they make for the X8 250 - so I am guessing that these bolts (8mm x approx 65mm) are made for that installation - a quick trip to Lowes and I was back in business.
Overall - not much difference in sound - a little throatier and I definitely get some pops as I coast along with no throttle - but overall this is not really a loud pipe.
So, here are the pics
In the box - waiting ;)
Nice, shiny muffler :)
Pipe and adapter plate.....
Torx head bolts - needed the breaker bar to get these puppies loose.....
I was able to slide under the scoot without using my lift to get at the exhaust outlet..
the one year old stock exhaust - the winter salt did a number on the inside of the pipe - some rust was evident - just in areas I could not get to when I was cleaning it....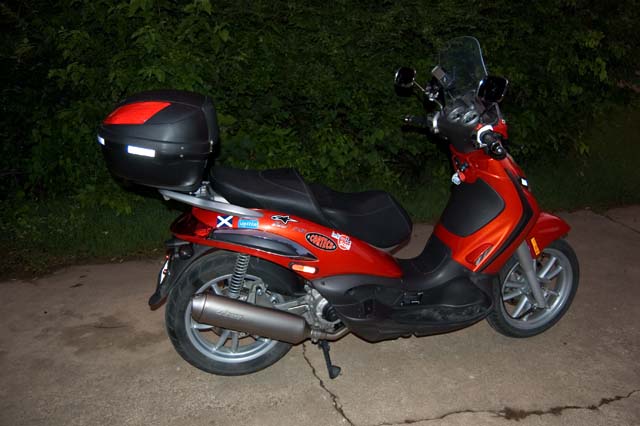 Looks nice, doesn't it ;)
a little closer