I changed my front shock today, the stock GT shock went flat at 11,500 miles. The GTS shock looks nice and is a bit more robust.
Tools you will need are...
13mm socket with a short wobble extension, 13 mm open end wrench, 6mm allen wrench to remove the front wheel and to remove the 2 lower shock bolts. Some lock-tite and some super glue to hold the washers in place when reinstalling the upper shock mount nuts.
I bought a cheap MC jack from Harbor frieght, $59.95
If you have a side stand, extend it so the jack rests flat on the underside of the scoot.
With the front wheel removed, you can access the shock mounts under the fender much easier.
The upper shock mount has a rounded end and a flat end, the flat end has the cable bracket installed on it. The bolts for the mounts are loose. The bolt heads rest in a socket to keep them from turing when they are removed and installed. They can come out
The lower shock mount showing the upper socket head bolt removed.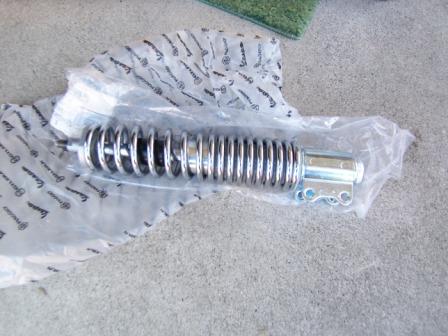 The new GTS shock.
The old shock with the upper mount bracket removed.
The upper shock mount on the fork. You can see the bracket for the cable is on the forward side of the mount.
Installing the upper shock mount plate to the new GTS Shock, notice the flat sides of the new shock, they should align closely with the mount holes for the bracket, it makes it a little easier to get a socket on the nuts. I used the open end 13mm wrench o
Another look at the upper shock mount point.
The flat end points forward and has the cable bracket installed on it.


Last edited by Ifixjets on Sun Aug 05, 2007 7:55 pm; edited 3 times in total