I've been upgrading the lighting on my GTS a little bit at a time, but I think I'm finally done. I had previously installed an Admore kit in my Givi V46 and also installed the ScooterWest DRL kit for the legshield lights. I had also swapped the 194 bulb in the horncast light for LED.
The ScooterWest kit was simple to install and works exactly as it should. But I was disappointed that the white LEDs for the running lights were only on the ends of the LED and did not fill the housing with light, so it looked pretty weak. I also tinted the legshield lenses with hyper yellow fog light film, an homage to the Ferrari GT road racing cars.
I decided to upgrade the 1157 LEDs with some from Amazon that have white and amber on the sides and ends and they are a huge improvement (might almost be too much). They definitely fill up the housing completely. I also bought and installed an OPT7 H4 LED from Amazon that is also extremely bright. Looks to have good cutoff when aimed at the garage door. I also added some amber LED strips to the legshield beading to provide additional turn signals that are highly visible from the side.
The H4 headlight upgrade required some customization. I had to modify the locking ring and the dust cup on the back side of the housing. This was needed to accommodate the integrated cooling fan and this does not interfere with anything else inside the headset. The ballast for the light is tiny, so no issues with that.
In summary, I have a lot more illumination on all sides of the bike with a nominal increase in electrical draw. The only bulbs I haven't swapped are in the gauge cluster and rear tail light and turn signals. Enjoy the pics below.
ScooterWest switchback LEDS in and out of housing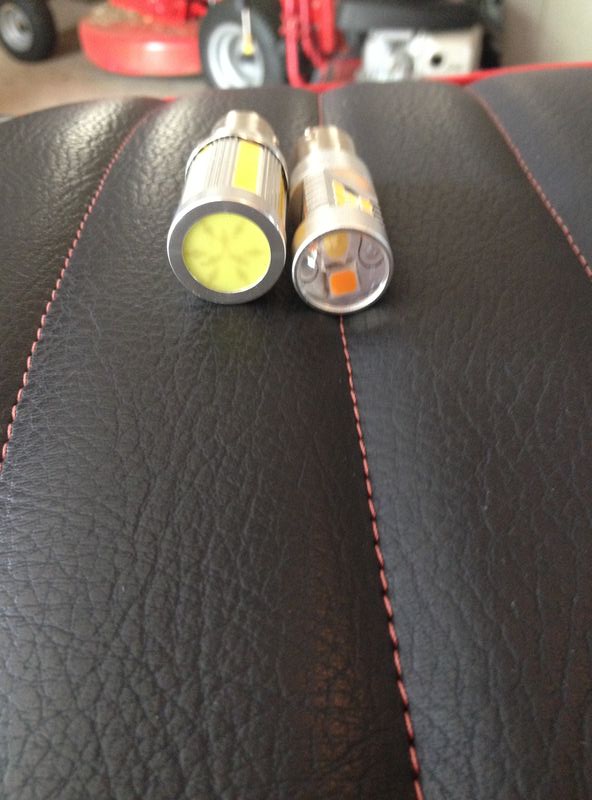 old and new 1157 LEDs
showing the sides of the 1157's
New 1157 on right side of pic, Old ScooterWest 1157 on left side of pic Huge difference here
Ballast for the LED is very small
H4 LED with cooling fan
Widened bulb locking ring
Additional modification to clear the fan housing
H4 Halogen powered up
H4 LED powered up
New bulb in place on back of housing
Dust cap cut to accommodate the fan
Dust cap installed
H4 Halogen low beam, the high beam was burned out so no pic of that
H4 LED low beam
H4 LED High beam
New LED turns on the front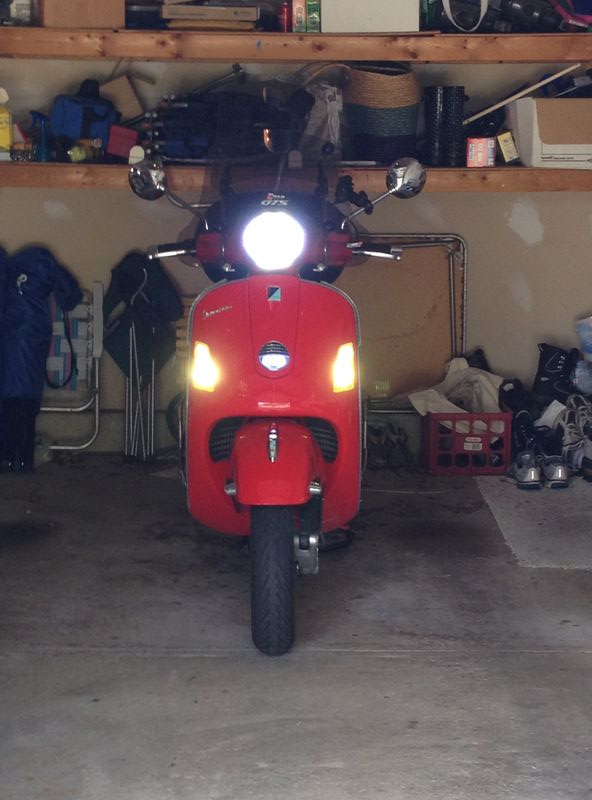 new front view
Brake lights on Givi
Turns from the rear


Last edited by CrazyCarl on Mon Jun 29, 2020 11:58 am; edited 3 times in total