Enjoyed letting Kitt do a lil dance for y'all - thanks for the good comments.
This post should really be on advancements on the unicorn - and I suppose if you squint your eyes - really hard - it kinda is?
While innocently just drinking my coffee on Thursday, an alert popped up from Craigslist.
Logan Mill - estate sale.
One owner.
Full tooling.
$1000.
Sheesh. I am only human!
You just wave your 3 jaw chucks at me, and show off your curvy cast iron legs, and I am supposed to just, what? Ignore that? I am not (single phase) wired like that.
Soooo - I called the number - and bought it - sight unseen.
Drove down yesterday and broke it down in to lots of small bits - and threw it all in the truck.
But the best part might have been the "Roebucks" coveralls in my size!
Great guy - helped me break it down and load - then gave me his father in laws freshly cleaned coveralls.
Paint on the machine is awful. So tempted to strip it back to something I can prime and repaint. But currently just cleaning and prepping to re-assemble.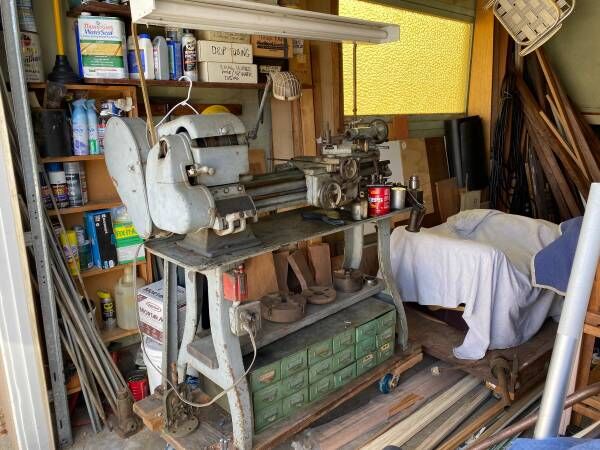 Been in this garage for 40 years. Was previously owned by Sig Erson - the camshaft guy who lived across the street.
Ready to roll!
Weirdly - I might be most excited about these coming with the deal. I mean - damn. Cue the music!