With those parts mentioned in my previous post, I started looking at what type of port timings I should be targeting for economical touring on stock P200 gearing. I found a similar thread by ginch where jack suggested two possible targets for touring results on a P200.. piston below deck @TDC target of 3mm below deck, and/or a squish of 0.8mm.
http://modernvespa.com/forum/post2309694#2309694
So I measured my stock P200 barrel and came up with these numbers (no measurements for the Rotary Valve yet as nothing is mounted in case).
Stock P200 Port Timings
Exhaust:
39mm
Transfer:
47.8mm
Stroke:
60mm
Conrod:
110mm
My default port times if set to zero deck are as follows:
Exhaust:
161
Transfer:
122
Blowdown:
20
Now if I wanted to get to same exact port timing I have on my stella 177 kit, then I would have to set everything to these numbers:
Piston below deck:
-0.8
Exhaust (grind up 5.5mm):
33.5mm
Transfer:
47.8mm
with the MMW 0 deck head this gives me the target
0.8mm
squish jack mentioned on Ginch's thread for touring, but my port timings become exactly what they are on my stella kit:
185/125 with 30 blowdown
.
If I wanted to meet (or get close to) his other target instead... piston at
3mm
below deck then my port timings become much higher. This would put my numbers square in the target timings for the viper exhaust I am looking at. Those numbers are as follows:
Exhaust (grind up 6mm):
33mm
Transfer:
47.8mm
Piston Below Deck:
-2.5mm
which give the timings of
194/134 with 30 blowdown
(this is in the middle upper range of the viper exhaust targets SIP suggests).
So my question is, for touring/torque/fuel economy.. is it better to hit the tighter squish, with the lower port timings having the piston higher in the barrel? Or is it better to have the larger squish, with much higher port timings and the piston lower in the barrel? Obviously the second option of 194/134 would have too large of a squish at 2.5mm so would require some work to the head to get the squish down.
Any suggestions? I'm trying to more completely understand the torque/fuel economy effect of piston height and squish. My personal thought is that higher port timings equal higher RPM equal lower fuel economy and torque, but I feel like I have read that having the piston lower in the barrel equals more torque, so I am confused as to which priority is important in a circumstance like this, given my lower piston numbers equal much higher port times as measured currently. I am leaning towards the higher port timing targets of jack and sip viper exhaust because that gives me a lower piston in the barrel, then possibly adding 2.5mm head gaskets to lower those port times, along with the max rpms. This would then require a considerable amount of machine work on the head to counter-sink it enough (approx 4-5mm) to reduce the squish to usable range.
Im also probably way wrong in thinking the placement of the piston inside the barrel is so important, and over complicating things for myself, and rather the only really important thing is port times., Which my -0.8mm below deck and 185/125 would get at much simpler and easier.
And this is all on a Grand Sport piston.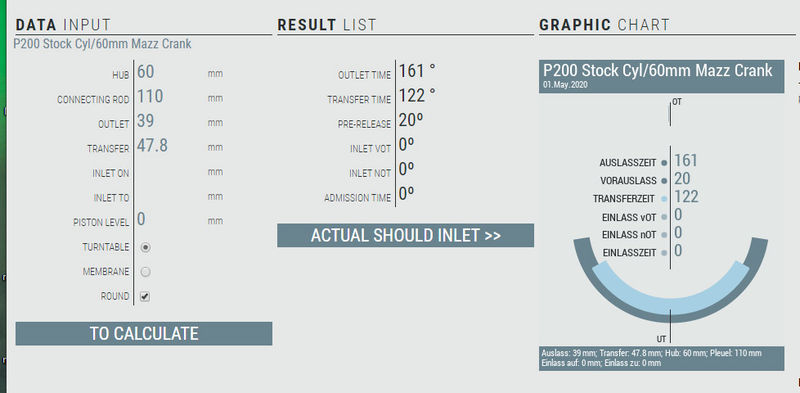 stock measurements with zero deck
0.8mm squish by default, 185/125 timings
Jack and SIP Viper exhaust target timings, much larger squish.