My ride north should meet up with Ken's ride north tomorrow.
Mine began with the Spring Gathering with photos posted in that thread.
But between the two I have had another adventure.
I left Maggie Valley on Sunday morning.
I had mapped out a ride on the Blue Ridge Parkway, but bad weather was between me and my destination, Brooklyn, NY.
So I hopped on I-4 just a few miles into the ride and tried to get as far as I could.
Big clouds and rain found me in Hagerstown, MD, where I headed to a nice Hampton Inn for the night. I watched some of the last round of the golf tournament until a bolt of lightning killed the cable signal in the entire town.
The next morning I headed out after doing laundry and made it to NYC at around 11:00. I missed a turn, then got stuck in traffic trying to get into the Holland Tunnel ($15.00 for motorcycles too). Then lower Manhattan and Brooklyn traffic. I was a half hour late getting to Kylie's.
We toured Brooklyn and headed out the next day to the Catskills.
Then the Green Mountains of Vermont followed by the White Mountains of New Hampshire.
The last day with her had us braving the cold and wind to get to Portland, where we had a great oyster lunch at Eventide Oysters, beer at Gritty's and lobster at the Portland Lobster Company.
Looking forward to seeing Ken tomorrow. (Sad to see Kylie off)
Bill
Holland Tunnel
Kylie in Brooklyn
Brooklyn Bridge
Manhattan Bridge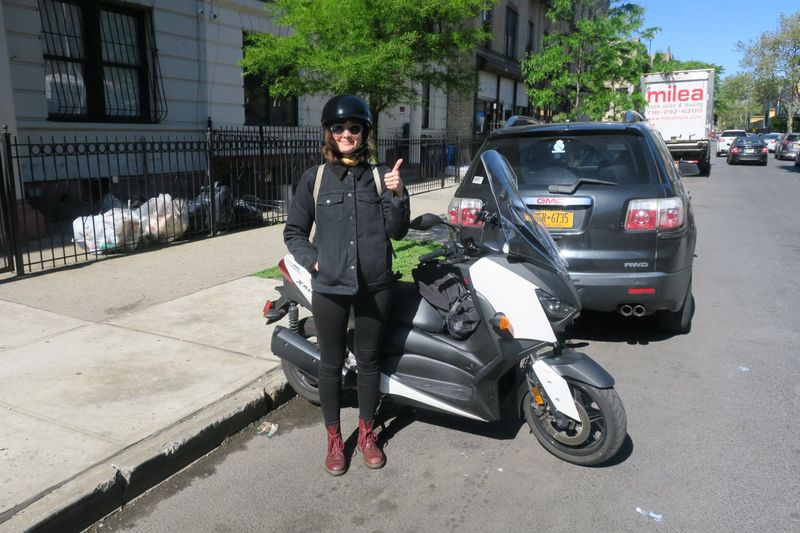 Kylie as we head off.
A stop in New Jersey to see Manhattan.
Checking out a waterfall in the Catskills
Kylie and the waterfall.
Kylie and wbdvt leaving the hotel in Manchester, NH
Selfie of the two riders
Cold this morning
Oysters