It's the end of summer and its time for my annual scooter trip. The minions were chomping at the bit to ride and we sure did! I don't know when or what circumstances helped me come up with my idea this year but Big Bear Lake, CA popped into my head and I ran with it. Years ago I was an adult snowboarding instructor there but haven't been back since. I thought it would be great to take the scooter pals there as its got a mountain atmosphere, a lake, there was some familiarity with the route and it is still close enough that folks could make it home quickly should an emergency arise. I noticed there were a lot of lakes on the route so the "Head For the Lakes" name was born.
Doing my best planning while "pretending" to work the graveyard shift the months prior, I found an accommodating cabin, some good routes, gas stations, shops and rallied the crew. This year M/V users Socalguy, Ronindamascus, Googie, my friends Mike and Yancy and I were the riders with my girlfriend Stacy providing support truck duties.
Friday morning we all gathered at my house and were on the road by 10 for the long days ride to Big Bear. Stacy wasn't quite ready so she stayed behind to wrap up the last bit and then meet us for lunch.
I rode my trusty and rusty stock P200 with the only performance parts being a modified head and a SIP Touring flywheel, Socalguy rode his modified Super 170, Ronin rode his heavily modified PX177, Googie christened her new to her stock Rally 200, Yancy was on his bone stock P200 and Mike rode his stock GTS300.
Within 20 minutes of leaving Oceanside, CA I noticed my CHT temps climbing fast. It was a warm day- 97*F and I was having a surging idle at stops. Since there were a lot of hills ahead of us, I played the conservative route to stop and check things out. Nothing immediately screamed out at me but I checked the spark plug, head bolts, fan cover, air box and carb bolts for an air leak. The idling was sorted but I still had warm CHT temps. I upjetted 10 points to a 135 main jet and said lets ride.
The CHT temps came down some and we made up lost time taking Old Highway 395 through Fallbrook and Temecula until we got to Sage Road. Just south of Hemet Socalguy's Super clonked out and lost all engine compression. Looking at my phone (Thanks GLYPSE app!!), I could see Stacy was close and had her find us to grab Socal.
Then it was back underway to Hemet to get everyone some cold drinks and to see what could be salvaged on Socals engine. Unfortunately nothing could be done so we called around to see what parts could get overnighted to us. Mark @ Scooterspeed had an entire cylinder kit on the shelf and was willing to drop everything to get it to the post office. He didn't even wait for the mail to be picked up! It was a classy move on his part for sure. (Insert shameless plug to reward Scooter Speed with your business for being awesome!)
After lunch we loaded Socal and his scooter into the truck, said our goodbyes and continued on our intended route. Stacy and Socal detoured to a local dog park with the intentions of meeting up at the base of the hill at the Mill Creek Visitors Center a few hours later. Uneventfully we wiggled our way through the Inland Empire to the meetup spot and had 30 minutes to gas up, talk about the next leg of the ride and hydrate.
Since we were going to be climbing to altitude, I told everyone we would be stopping sometime during the climb to downjet our carburetors. The air density changes and the carburetors run too rich. Due to that, we would lose top speed and might have a hard time on the uphill sections.
During the climb, the scooters kept losing speed and our idles went to shit but no one was behind us so I said screw it keep riding, and we made it happily into Big Bear City with no problem. My GPS app was acting up (Thanks a lot Rever!!) so I tried to find our way to the rental office in Big Bear Lake. Lost and confused with a scooter that wouldnt idle anymore and as I would find out way past the office, I told the group to find a bar and wait till I found the cabins property management office and would get in touch.
I finally found the office, got the keys and told everyone where to meet. That night Ronin's girlfriend Jae drove up and joined us, and some of us went out for dinner and some stayed home to relax. I wanted steak and seafood but the wait was too long and we settled for Mexican food across the street. One jalapeno margarita and one churro shot later, I was feeling fine and we spent the rest of the night with the group drinking and watching Caddyshack on VHS at the rental cabin.
First one to stop for problems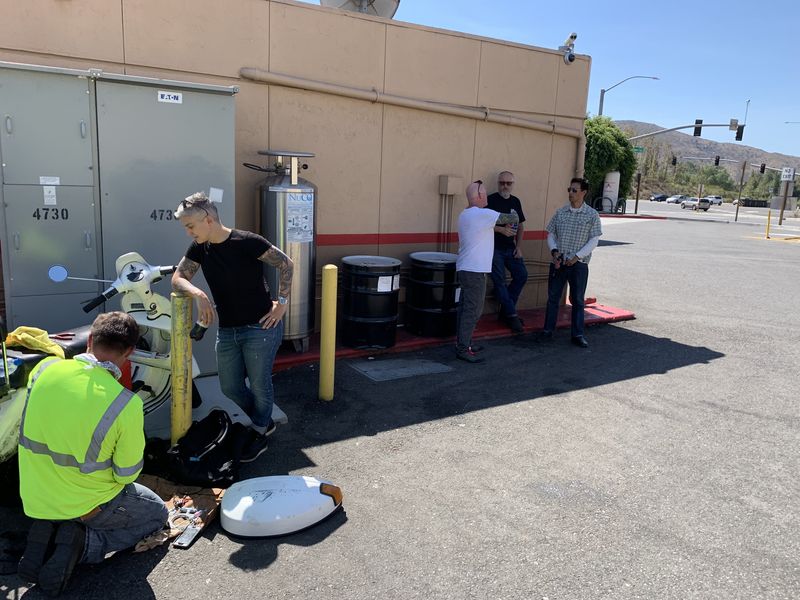 Whoops! Socalguy's having problems
Aaaannndd it doesnt look good!
Stayed at the Chevron for a bit trying to figure out if we could salvage things and limp on.
Churro shot
Happy diners