I already started the thread for the
200 motor
that I'm going to put in my GL, and yesterday I finally actually started working on...well...the scooter itself.
I've always just avoided body work in the past, so this will be an interesting learning experience, especially given that my only body work experience was refnishing my fiberglass boat.
This is a GL that Patrick (aka OopsClunkThud) hooked me up with back in 2018, right after I lucked into my Sprint, so it's been waiting patiently through the Sprint project, a boat restoration, the VBB rebuild that won't end, COVID, and a cross-country move. But now it's up.
I stripped down the frame yesterday and, because it wouldn't be a scooter project without weird problems to solve, I now need to figure out getting it titled given that I have *no* paperwork (the transport driver lost it when I had the scoot shipped from California) and, as I discovered yesterday, the VIN aggressively removed.
Also, when I pulled the cables, you could see rust indicating the high water mark where it sat with about two inches of water in there at some point.
Some non-trivial pitting on the floorboards, but based on
what JVB did with his PX
, I think I can fill it. This is where the metal filler comes into play, right?
I did a little research and as best I can tell from the Interwebs, Tennessee is not a bad state to live in if you're trying to do something like get a VIN and title for a vintage vehicle. There's a form I need to fill out and have notarized, I have to have the cops come look at it, say "Nope, you got no VIN all right," and then they can give me a report that attests to the fact that they don't think it's stolen.
And because it's over 30 years old, the process is simplified considerably. They seem pretty realistic here that old-ass barn find vehicles probably don't have a lot of paperwork to go with them.
The engine side cowl is gone and the clutch side is rotted all to hell, so I'll just order replacements for those. That simplifies things somewhat.
Assuming that the VIN/Title process goes reasonably well, next steps are:
- Continue tearing everything down
- Some Hammer & Dolly fun on the legshield (wish me luck!)
- Simple Green+metal junk to clean out the inside of the fuel tank
- Super-Remover to strip paint
- wire brush/stripper discs to get the rest of the rust off
- Ospho the tunnel
- Metal Filler (POR 15?) on the pitting in the floorboards
From there, it'll be filling and fairing, sanding, priming, filling & fairing, sanding, more sanding, more sanding, and finally some more sanding. Then paint and re-assembly time.
Also, I need to rebuild & paint the fork along with everything else to get this thing rolling again.
If you squint, I bet you can still make it out...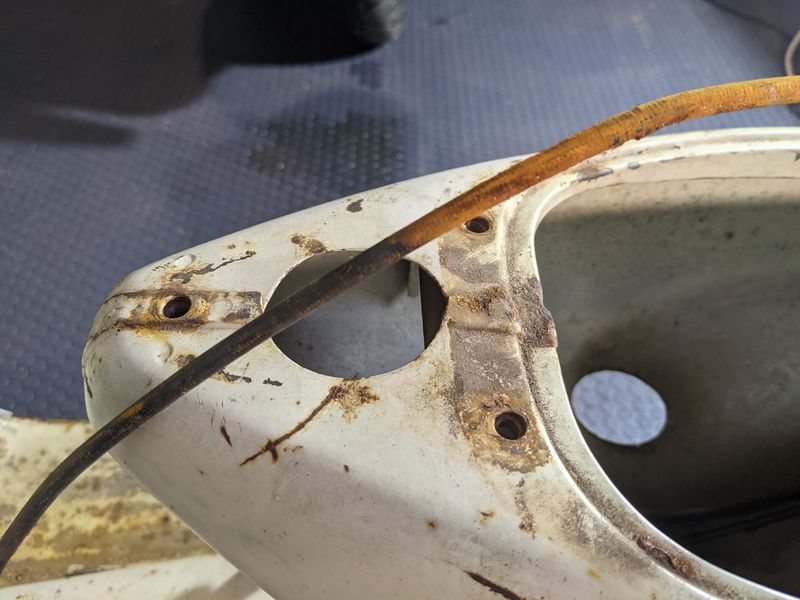 high water mark
Before I began
Non-trivial pitting.


Last edited by chandlerman on Fri Feb 05, 2021 9:36 am; edited 1 time in total