Backstory
- I play a lot of tennis and carry a big bag, not like the pros, but big for a person to lug on a Vespa. I prefer the wide and narrow load to be behind me where a passenger might sit and so it sticks out a little bit on either side. Let's call it a wide load that I don't want falling to the side!
This wide load was difficult for me to secure safely and repeatedly so it wouldn't move around. So I put on my thinking cap and came up with the following.

If you made it this far
- It's essentially a bungee hoop that you slide over your seat that gives you a couple of extra locations to attach a bungee and hold that precious load in place. The extra locations are in the form of metal rings that are attached to the hoop. For the tennis bag, I throw it on the seat and then I attach a bungee to one ring and over the bag and around the rear rack and back over to the other ring. It will make sense when you look at the photos below.
Yeah, yeah, what is it?
It is a marine grade heavy duty bungee cord that has been double crimped where attached to the rings with protective rubber over the ends for good looks and a long life. The rings are nickle plated steel.
I have been working on refining this for a month or 2 but realized that some of you may be able to use it for the cannonball so I said, "Stop messing around and tell the gang what you got to get the ball rolling". So here we are...
Sorry for the long winded intro, hopefully you can benefit from making it to the end.
Here's that darn load I was talking about
This is the "strap" when installed.
Here is the racquet bag held firm with bungee running around and under my rear rack.
I've been using it for about 3 months and I realized I really use it a lot for other things not related to a wide load.
It's windy where I live and having a place to slide an item while I get ready to ride has proved useful. Shopping bags, masks, receipts, etc...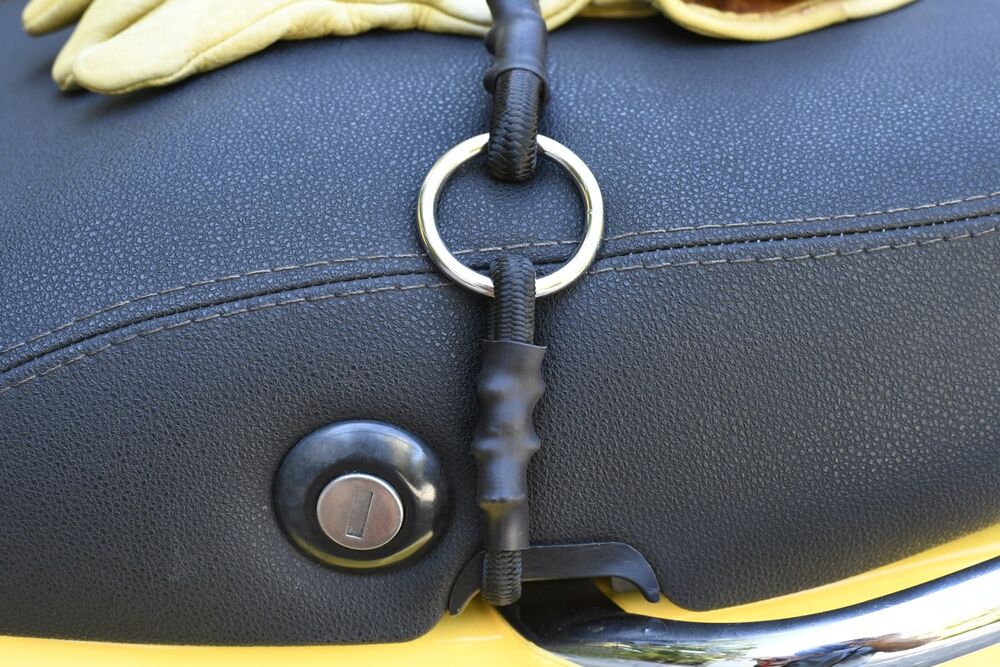 Here is some detail. You may notice that my seat is different than yours and my strap fits nicely in the recess over the rear grab bar. More on that in a follow on post.
The notches under the seat on some Vespa models is a great way to index the strap. I found that a 5/16 bungee cord will not interfere with the function of the seat so I started there. The top part is currently 3/8's because I like the way it looks. I made


Last edited by Kevin T on Tue Jun 08, 2021 7:34 pm; edited 1 time in total