I was invited by fledermaus to join in on this year's Yooper Loop.
A small group did a similar ride two years ago, but just before I was to leave, I developed some infection that left me at home. Gave up a plane fare for that one.
This year found me healthy and vaccinated.
It started with an early flight (leaving Jax at 7:00 AM). Arriving in Madison at 10:00 AM.
Took an expensive Uber ride to Madison Sully's house to retrieve his and Nora's 2008 GTS 250. I had brought ROK straps to strap my soft case to the rear rack and was surprised to find a top case. So I rearranged stuff and folded the bag into the top case. It worked well.
I had contacted my Aunt Joyce about seeing her in Fond du Lac, so I rode up to Oshkosh to see the old family house, then joined Joyce for a late lunch at Wendt's on the Lake. Perch, of course.
Then checked into a hotel and headed to fledermaus' house for Brats.
We left the next morning to Manitowoc to catch the SS Badger for a four hour tour across Lake Michigan to Ludington. We arrived at the hotel in Manistee to find that they had canceled our reservations, but managed to snag a room anyway. Had dinner at a cool restaurant in a wonderful building.
Friday we rode north towards the UP, but first decided that Wmak had a rear tire that needed to be replaced. Gitder noticed a motorcycle/scooter shop in Frankfort and pulled in to find that they had a tire and could do the work. We spent over two hours there but left with a new tire on the scooter. $90 total including the tire and two hours. That easily would have cost $250 at the dealer in Jacksonville. And they probably wouldn't have had a tire in stock.
From there we had a great ride through the Tunnel of Trees and over the Mackinac Bridge to St.Ignace.
Saturday morning, the Weather Channel was showing rain all day. I opted to let the group head out on their long ride while I took a 2 hour ride to the next destination, Munising. I got 30 miles in before light rain started. As it got heavier, still light though, I pulled into a restaurant in Naubinway, where I spent a half hour talking with a young engineer and his friend while downing a cup of coffee.
The weather continued to get better as I arrived in Munising with a very empty gas tank.
I chose to get lunch, then ride around the area in glorious sunshine.
Sunday was the 300+ mile back to Madison. Madison Sully and Nora invited me to a very nice steak dinner before taking me to a hotel for the trip home.
Very nice ride with very nice people.
Bill
Wisconsin on day one.
A Wisconsin Barn with my scoot for the week.
Madison Sully and Nora on this beast.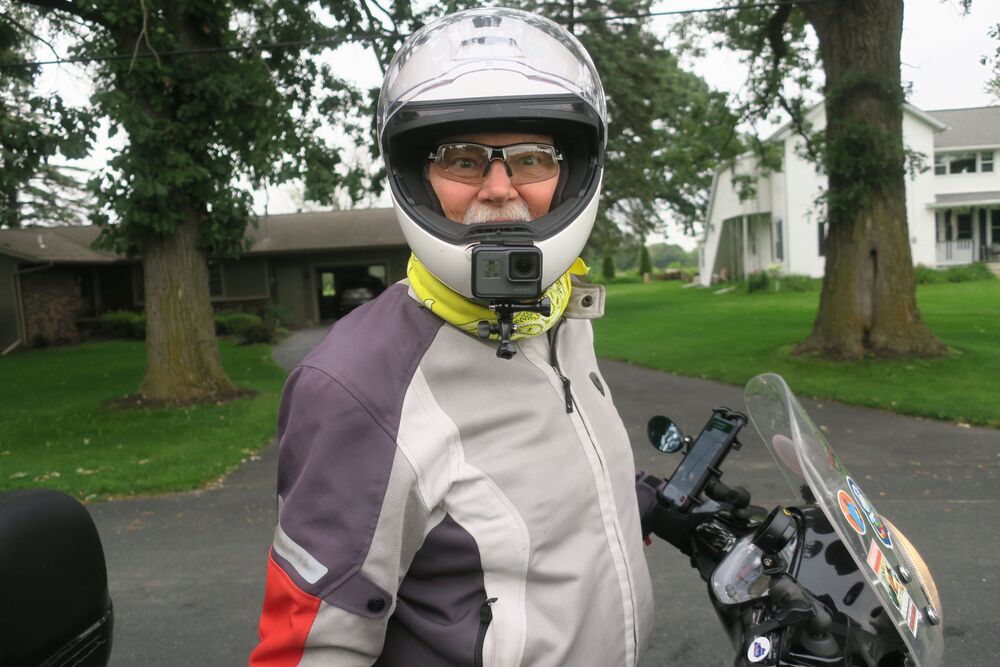 Wmak being Wmak upon leaving from fledermaus' house.
SS Badger
Bikes in the bowels of the Badger.
Riding in Michigan.
Somewhere in the Tunnel of Trees.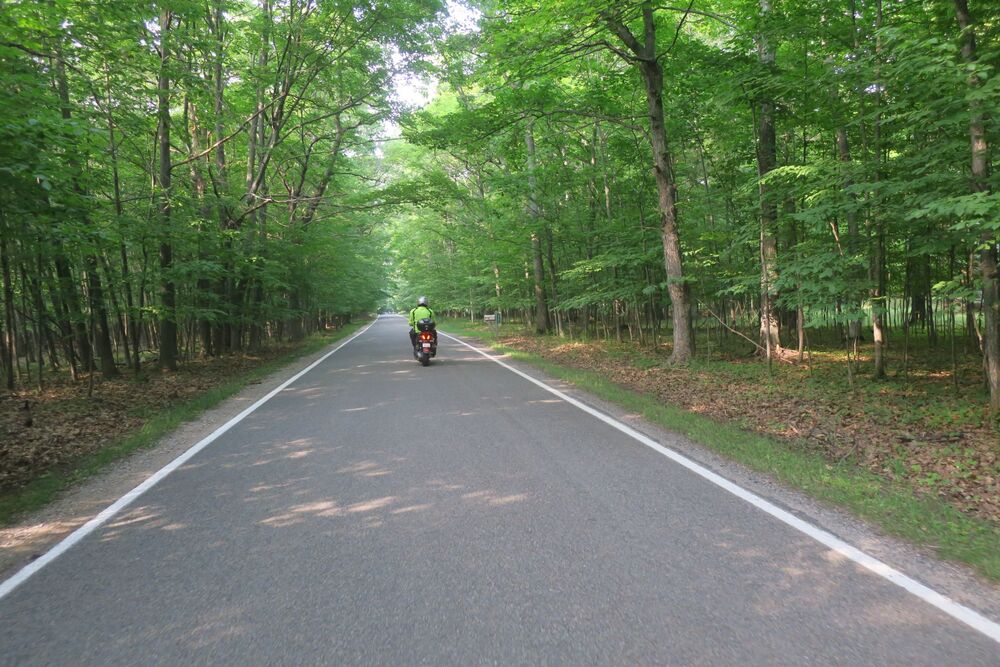 More of the Tunnel of Trees.
Some beat up roads in Michigan.
Crossing the Mackinac Bridge.