Some of you know that I've been given the opportunity of getting a 1980 white P200 up and running.
I'm going to document my progress and what I do to get this beauty back on the road. It should be a fun ride, bringing it back alive.
Yes, she's been named Bianca before she even is running. I didn't name her, my lovely wife did, but it fits, so there you go.
I haven't had any time to do anything, except put her on the table and take a few pics. Hopefully tomorrow I'll get to taking off the side cowls.
And I KNOW ScootNewB (Chris) will be over to help me drink coffee and eat donuts while we bring it back to life.
I do know:
It rolls, and the body seems straight,
The clutch seems to work,
The front and rear brake seem to work,
The engine turns (I gave it a push in 3rd and felt it burp).
I plan on:
Taking the cowls off
Drain the gear oil and inspect, refill if all looks good.
Pull the tank and clean.
Pull the carb, clean, and install.
Pull the Petcock (heh heh, petcock) and replace.
Fuel and oil line replace.
Oil tank and sight glass with new seals.
Visual inspect the electricals.
Pull the battery and replace with sealed battery.
Hook up temp tank and see if it'll start.
Here are the pics I took today to get the ball rolling...
Meet Bianca - Lived her life in Santa Cruz until 1990, then shuffled to Florence, Oregon and parked in the back of a shop for 30+ years
Broken headset
Slight crease in the legshield.
Front fender and grill has hole in it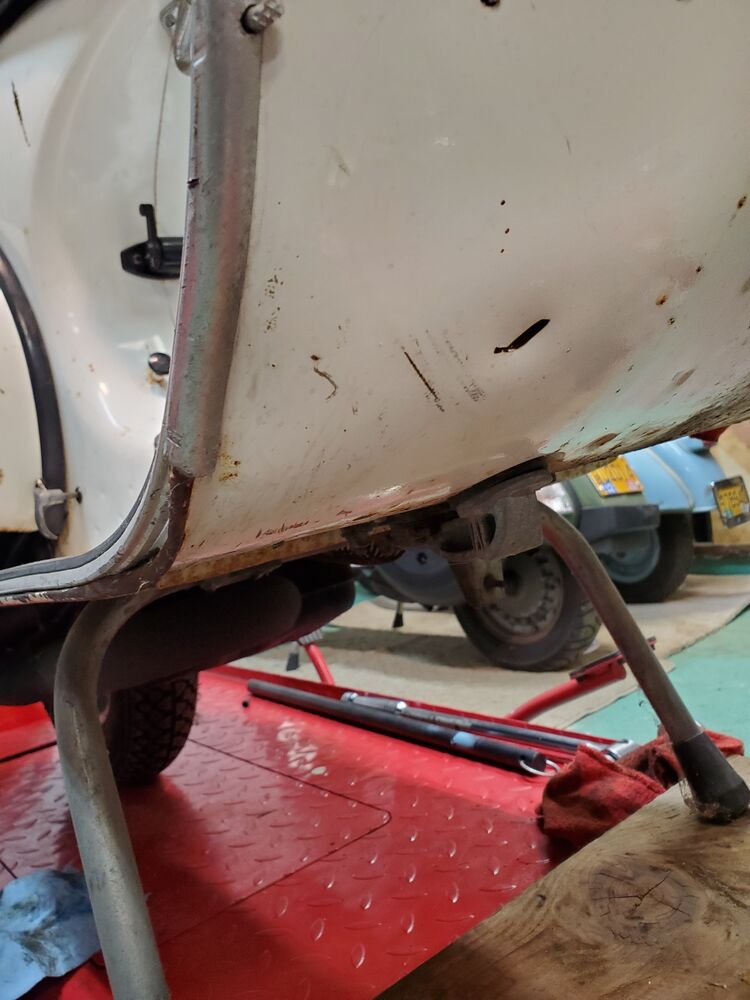 Legshield dents at the bottom curve on both sides. Not huge though...
Center stand mount has tweaked floor
Glovebox needs some minor love to align it. Still has the serial number in tape on the inside of the legshield!
The BBQ rack was attached below the light mount, not to the license plate frame, which buggered up the body....
It still has the kill switch intact
And the plastic fuel lever. Gonna change it out for a euro style. I'll clean up this one as well as the fuel tap because someone may need it to do a period restore.
Turpentine anyone. It doesn't look too bad...


Last edited by qascooter on

Tue, 26 Oct 2021 05:29:18 +0000

; edited 2 times