Felt like getting back out into garage this week to split both my orange stella and old white p125 engines to rebuild them both at the same time.
Orange stella engine came apart easy. I figured it would be a bear as it wouldn't kick over, guessed the piston was frozen in cylinder. Turned out, the piston was in a million pieces and not seized, nor was the crankshaft seized. There was a lot of oil in the crankshaft area so my guess is there was an oil leak between gearbox and crank case, oil sucker.. and that caused a seize. The problem with kickstart not budging was a bent kickstart quadrant! My guess is the piston exploded and some fragment got stuck preventing the piston from moving and someone kept jumping on the kickstart lever trying to get it to budge. I know I contributed to that. Took 45 minutes of smacking away at it with a ball peen hammer and a punch to get the quadrant out. Possibly the kickstart hole has some damage from forcing the bent shaft out, but the surface isn't damaged, so im hoping new oil seals and new quadrant will prevent any serious oil leaks as long as that hole wasn't warped from the extraction.
P125 turned out to be the bear that is fighting me tooth and nail. Exhaust mounting bolt that goes through the swingarm is seized in the swingarm hole. I broke the bolt head off trying to unscrew it. Had to cut the exhaust mounting tabs off so I could get the exhaust off. More time trying to hammer that bolt out proved fruitless. Moved on to splitting cases and the rear hub castle nut is seized on the axle, plus the longest case securing bolt that goes through the thickest part of the case at the bottom is seized in its hole. Spent quite a bit of time with a blowtorch, punch and hammer trying to tap that out from behind. No budging.
I'm thinking I may have to find a machinist to drill these bolts out so I can get the engine split.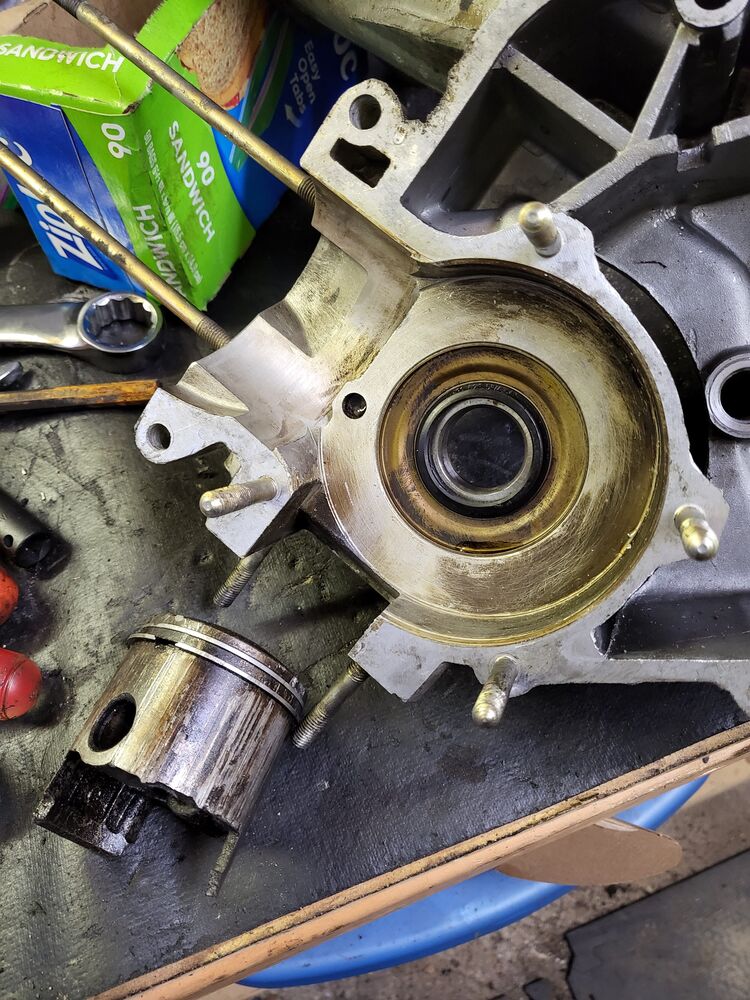 Orange stella. piston seen better days. Did a little damage to the crank web case surface.
it hangs to the left.
exhaust bolt seized in place.
smacking it from this end did nothing.
gave up on this... can probably get this one removed by re-installing a wheel and using some leverage.
this is the PIA that I'll probably have to find someone to drill out of the hole.
i spent a lot of time and heat smacking at this with no results.