Another Oyster Tour with Lostboater was planned around a few days of good weather, so we decided to head west.
I met up with Ken at Larry's place in the woods outside of Newberry, Florida.
We stayed in Dave's travel trailer as Dave and Larry were there too.
I got the big bed as Ken sometimes sleeps better in a chair, so he took the sofa.
I had ridden down on Rocket, my old GT that has been running perfectly for the past several years.
After a nice breakfast prepared by Larry, we headed to Wakulla Springs for an overnight stay in the Lodge.
Only about 25 miles into the ride I avoided a dirt road that the GPS wanted me to take, and it kept asking me to make a U turn.
So I stopped to delete a waypoint.
While stopped, Rocket stopped running from idle. Very strange.
It then balked at restarting, but did crank up after a little throttle wiggling.
We continued 20 more miles to Branford where I wanted to stop to look it over.
It quit running again from idle, recranked once, then stopped...and wouldn't start.
Ken and I then started thinking of our options.
I first called my wife, Sarah, to see if she could drive my truck over, then take me and Rocket home to swap for another scooter to continue the trip. She didn't answer.
So we called Larry and he offered to come to pick me up.
Sarah called back but we decided to stay with having him come as he was not as far away and I could get him back home in time to not miss any of the Super Bowl.
He came with Kim, who lives in a travel trailer on Larry's property much of the year.
We loaded Rocket and headed back to Newberry.
I dropped them off and hurried the 85 miles to Jacksonville for the swap.
I arrived home, unloaded Rocket, pushed it into the garage, got out the Big Ugly Xmax and transferred luggage and gear. Then parked the truck and trailer in the driveway as Larry told me I could leave it at my house if needed to keep me on the Oyster Tour.
I then sped away on I-10 for 130 miles before turning off near Perry.
That was 75 to 80 mph, into the wind into a setting sun with an hour of darkness before getting to the lodge.
Part of that necessary speed was to make the last dinner reservation at 7:45. Garmin was telling me I would be late, so I went as fast as practical.
I made it just before 8:00 and the dining room was nearly full, including Ken drinking a Martini.
I quickly ordered a beer and we dined in relative comfort.
The next day was an easy one as we were only heading to Apalachicola, 60 miles further west.
It was cold as we left, as ice had formed on the seats of the scooters overnight.
We checked into the Gibson and met up with my friend Drew who had flown his plane over to meet us.
Then Ken and I rode to Mexico Beach to see the recovery from Hurricane Michael's destruction from a few years ago.
We dined on oysters at the bar in the Gibson and turned in early.
Tuesday had us heading to Cedar key, hoping we could have oysters for breakfast at Lynn's, but while they opened at 10:00, lunch service didn't start until 11:00 and they weren't going to break the rules.
So we continued to Carrabelle to see a US Army museum about a base that was built there during WW2 to train troops in beach landings, a skill used in the D-day invasion.
Then we stopped at a new restaurant for us near Ochlockonee Bay called Tropical Trader Shrimp Co. We had oysters and tacos and will be back.
We arrived at Cedar Key and stayed in the old Cedar Inn Motel. It is old and not well maintained. We probably will choose something different next time.
Dinner was good and breakfast the next morning enlightening, as we learned that the 1842 Daily Grind had been sold. We liked the previous owners very much and were concerned that it wouldn't be the same. It wasn't the same but not bad as the new owner is a young man who appears to be doing well keeping the place in good shape.
We both headed home, me going north and Ken going south, after breakfast.
I had an easy 2 hour ride through some of my favorite parts of North Florida.
When I arrived home, Sarah told me that Larry's truck key I left with her had been put into her jeans and washed. The fob wasn't working.
I drove around and found new batteries for it, but it still didn't work. I called Larry who told me that he kept a spare fob hidden in the truck so I found that and it also didn't work.
So I put the new batteries in that one and it still didn't work.
I now assumed that the truck battery was dead.
The next morning I called AMA and they sent over a nice guy who unlocked the door, then jump started the truck and helped me move the trailer out of the way so I could get the truck out and charge the battery.
I drove it around, then took it to AutoZone to have the battery checked. It checked out as a bad battery so I bought a new one.
I drove home and in an effort to get the truck back to Larry, I loaded my Zuma 125 into the trailer and headed to Newberry.
Larry wasn't there but Kim helped me get the trailer unhooked and under cover and I unloaded the Zuma to head home.
With it's limited speed I kept to roads with speed limits 55 mph and lower where possible and made it home easily, enjoying the ride greatly.
What a cool little scooter, that Zuma.
There were unfortunate parts with Rocket and the truck breaking down, but it was still a very fun ride.
Bill
Rocket on the way down.
Parking at Larry's place.
The breakdown in Branford.
Rocket loaded and ready to take Larry and Kim back to Newberry.
Ice on the scooters in Wakulla Springs.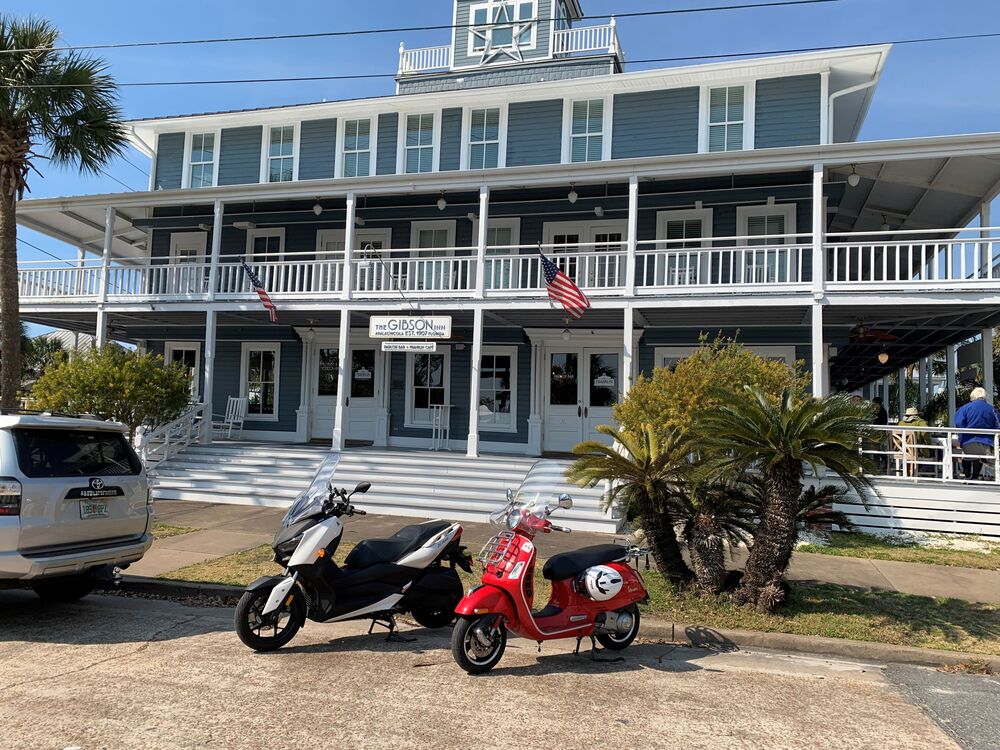 Our favorite, the Gibson Inn in Apalachicola.
Mexico Beach recovering from the big storm damage.
Lynn's disappointment.
Army museum in Carrabelle.
Tropical Trader Shrimp Co for lunch instead of Lynn's.
Sunset in Cedar Key.
The Zuma on the way home after dropping off the truck.