1973 US spec Vespa Sprint Veloce imported to UK by Retrospective Scooters in July '21.
Fitted with original front indicators
Came over with original side panels missing (gash blue panels lying around workshop added for photos), so no rear indicators and rear light stalk fitted.
Some nice original details like filler cap sticker..
..and lovely 1979-80 Pennsylvania road tax sticker on rear frame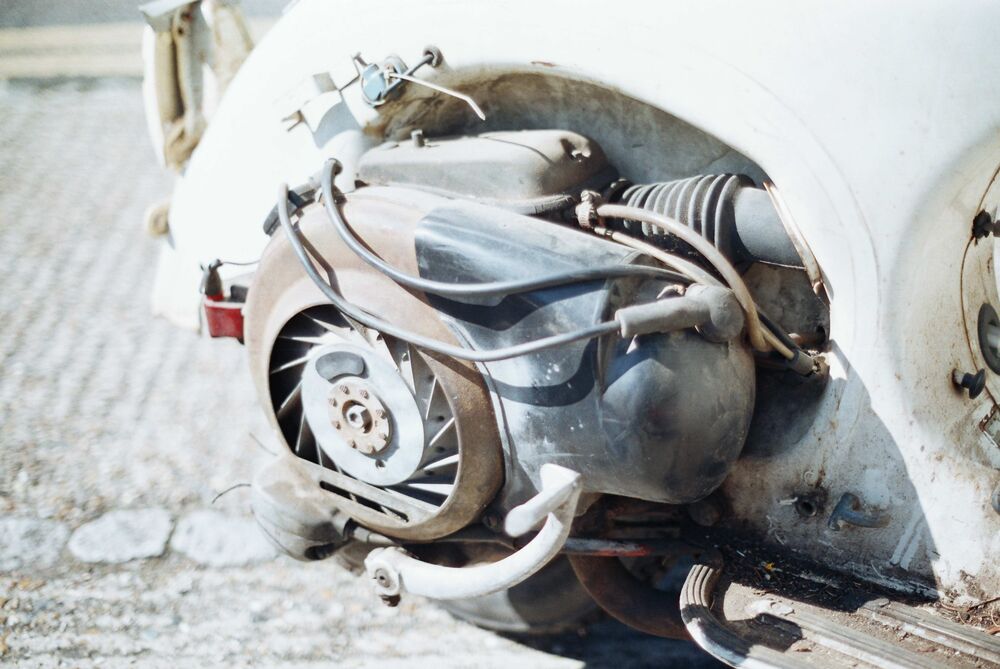 Original Sprint Veloce engine complete with rod contact for rear indicators, visible above air filter box
An original paint fan, I asked Retrospective to keep it original with bodywork ironing out completed by neighbouring business, The London Scooter Bodyshop. Frame was stripped..
..and engine
3-port engine back in and kept standard with re-bored cylinder, rebuilt with ethanol gaskets and seals, plus new bearings etc..
..and 12V electrics
Prefer European tail light instead of US spec tractor light, so was swapped..
..front indicators also removed, one of the fragile aluminium stalks had already broken, left handlebar indicators switch retained - now redundant but a nod to US provenance.
The London Scooter Bodyshop ordered new pair of pattern panels. Idea was to keep these in visual harmony with rest of scoot; if painted bright, new white they would have 'popped' off the bike. Dave Maher at LSB gave panels a few dings before etch priming
..and painting them brown to match colour of primer used by Piaggio in early '70s.
Finally Dave used 2 coats of white cellulose over the brown 'primer'. Second coat was painted over still wet white first coat so they blended. Once dry, Dave carefully rubbed back & distressed white to reveal primer before applying matt lacquer
Scoot finished mid-May '22. Drill holes can be seen where front indicators were. All original parts, lights etc kept to revert back to US road spec.
Rear view
Early '70s Valvoline keyring sourced on US EBay. Postage to UK was 4 times cost of keyring!
Union 76 & Champion spark plug period stickers added - quite like these but still deciding, would only use period correct stickers..
All done and ready to ride! Great job by Retrospective Scooters www.retrospectivescooters.com & The London Scooter Bodyshop www.thelondonscooterbodyshop.co.uk Full photo album here, mostly shot on 35mm film - https://flic.kr/s/aHsmWBn4iK


Last edited by Paul H on Sat Jun 11, 2022 8:10 am; edited 6 times in total