On the heels of my longest one-way ride just a few days before (Newburgh, NY, which I thought I'd posted here but apparently didn't), I rode Thelonica to my dealer for a stem-to-stern evaluation for my insurance claim, then packed bags to join Le Wife for a month-long stay in Chapala, Jalisco, Mexico, where she has an artists' residency. I was a tad hesitant about tagging along, even with all the lovely photos of where we'd be staying (Villa QQ, a decidedly-Mexican take on a boutique hotel, now affiliated with the arts organization Le Wife is working with). Now that we've been here going on two weeks, I can say the place, and Chapala itself, has
seriously
grown on me in ways I didn't at all expect.
Though perhaps I should have: Chapala, and nearby Ajijic, has long been something of a low-key expat magnet, and we've run into quite a few Yanks and Canucks who've been here from just a few years to decades. Geographically, Chapala (South of Guadalajara) is sort of in a planetary sweet spot: there
is
a rainy season (we just missed that), but much of the rain occurs overnight; at an altitude of roughly 4700ft, the air is fairly arid, and the hottest days are generally in the low 80s, while the coolest evenings fall into the low 50s (F). Sunrises are insanely gorgeous, and the mountains are tantalizingly close, as is Chapala Lake.
So: as I was merely coming along for the ride (providing moral support as Le Wife worked), I pretty much needed to sort out what I wanted to do, and how. Naturally, I packed a few cameras (digital and film), along with my journal, laptop, and hopefully the right amount of clothing for the month. (Rule of Thumb: Pack what you'll wear in the course of a week, plus a day or two, if a washer/dryer or laundry service is close at hand. I ended up bringing a bit more than necessary, but didn't screw up too badly.) One thing I immediately thought of was photographing the local moto culture, and it turns out there's quite a bit to see.
It's clearly a "helmet-optional" deal down here, as I saw lots of people zipping through town on everything from ratty 50cc scoots to 400cc nakeds, either riding solo or 2-, 3-, or four-up. Quite the sight when you consider roughly half of Chapala's streets are (sorta) smoothly-paved, the remaining half being cobbled and in varying states of repair. I saw some bikes pogoing so badly that I questioned whether the front forks had
any
damping-factor left in them.
Which brings me to the bikes themselves: I've seen maybe a handful of familiar names (my tally up to today: two Harleys, one Indian, one KTM, five Yamahas, maybe ten Hondas, and one Ducati). The vast majority are brands I either vaguely know of or never heard of: Italika, Vento, BCS. The bulk of those bikes on the street are dual-sports, with a smattering of naked and sportbikes. Engine displacement is usually between 125-250cc, with a few 350/400s every few blocks.
Nearly all these bikes, like Chapala, are fairly worn around the edges, though perhaps not as charmingly as the town itself. The same goes for stuff on four wheels: lots of pickups down here, but even the fanciest numbers actually get used to
haul
crap in back; few people here have the bucks for a vehicle to have just as a toy, and the proof is in their rides, scars and all. What I sort of envy is how Mexico gets the kind of sensible pickups and utes(!) that I presume manufacturers don't think would sell in the States: sanely-sized RAM utes, compact pickups from RAM, Chevy and Nissan that would make Ford's new "compact" Maverick look like an early-aughts F-150.
One other thing: Not a single EV in sight. Two- or four-wheeled. No e-bikes, either. Then too, I didn't see even the most mangled ICE vehicle, gas or diesel, smoking it up in the least. Fasinating. (Of course, the electrical grid here leaves a wee bit to be desired, not to mention Internet access, which is decent
when
it's working.)
A few more posts (and pics) to come, most likely. Meanwhile, we're seriously liking it here, and have made a few friends, including one who thought we'd have a not-too-shabby life down here. Would we? Way too soon to tell, but I wouldn't say "no" outright.
Where We Be At: Almost ridiculously alluring.
The Apartment: Almost too much to show and tell in one go, but it's very, very nice.
On the Street: With one seriously-dusted Duster. I think it actually runs.
Le Wife, one block from where we're staying. Not sure if this is a hotel or residence behind her.
From the Balcony: There are permanent residences here as well.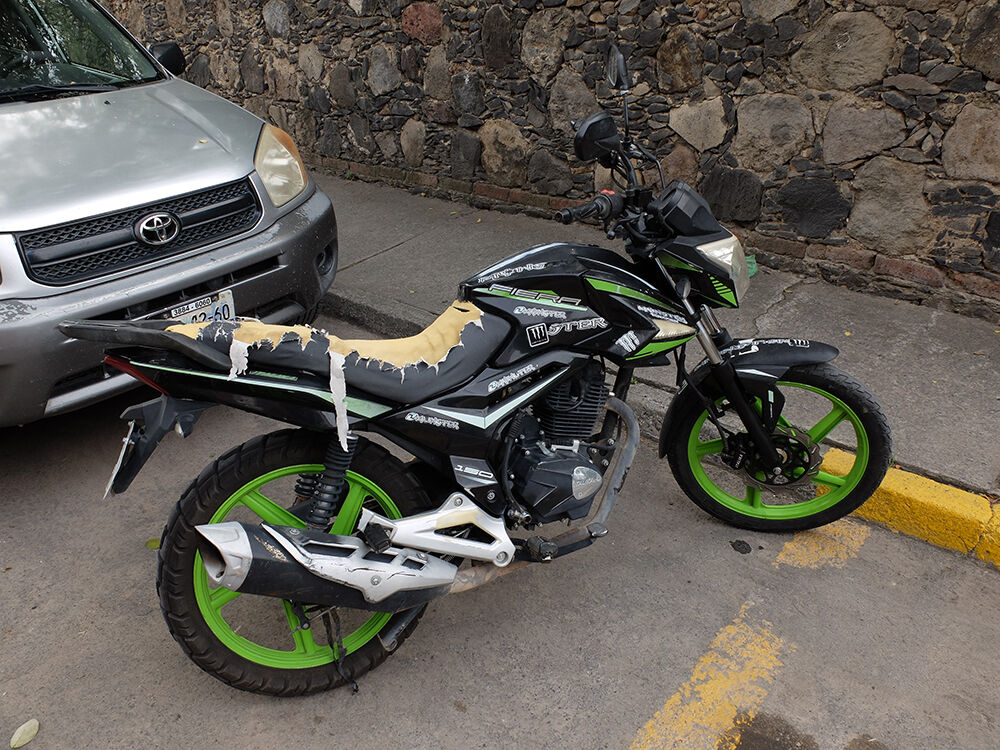 The Rides, I: Did I mention "rough-and-ready?"
Rides, II: They don't do "full-size" pickups here that much, but when they do, it's because they truly need 'em.
Rides, III: Most of the time, you see stuff like this.
Rides, IV: Lots and lots of delivery dudes.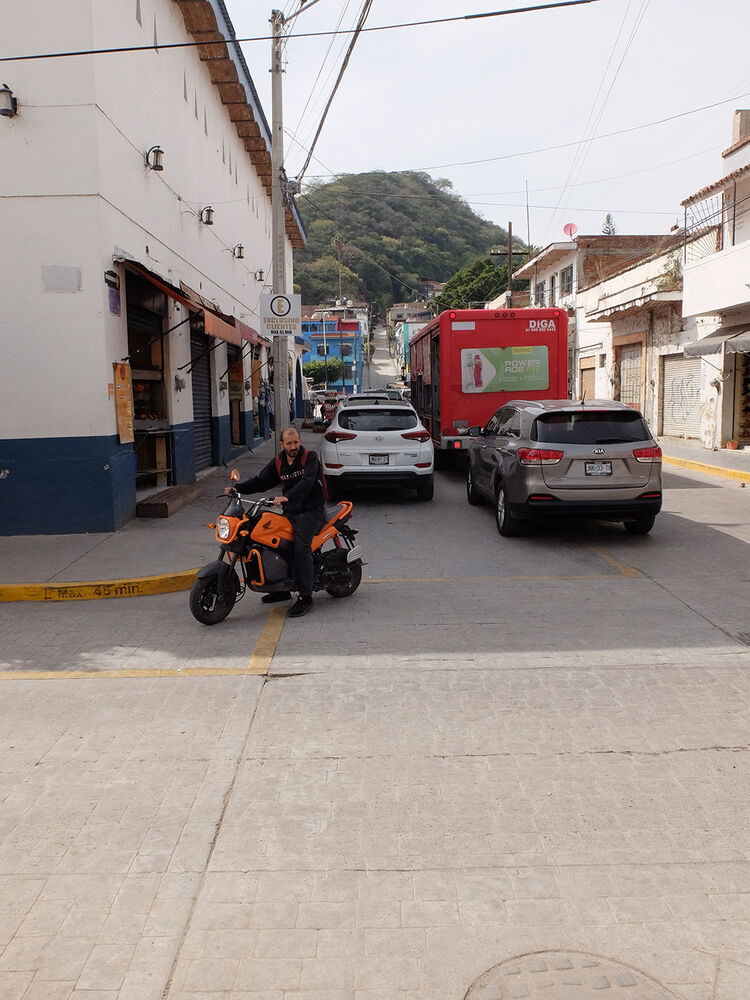 Rides, V: Lots of Honda Navis, plus a Grom or two.
Along Chapala Lake.
Between Towns: We took a one-mile walk to a mini-supermarket catering to gringos like me. The road connecting Chapala and Ajijic is rather nice, at least until traffic backs up.
Semi-Impromptu Parade: At home, it's all about Halloween; Here, the big deal is Day of the Dead, taken quite seriously, and we're lucky to be here for it.
Rides, VI: That Ducati. Somewhere between Chapala and Ajijic.
Rides, VII: In Ajijic: Pretty much typical of the scoots here.
Rides, VIII: Solo, en Familia.
"Oh, no, Guadalajara won't do…" - Steely Dan
Rides, IX: Nicely-done, too.


Last edited by amateriat on

Wed, 02 Nov 2022 19:46:41 +0000

; edited 2 times