overnight into tuesday my beloved vespa was stolen from home. i discovered it had gone in the morning and did the obvious things. phoned the police and the insurance.
i then recalled that i had an apple airtag on the bike. these aren't designed for theft tracking and it therefore wasn't particularly hidden. it's mostly there in case i forget where i parked. these work by broadcasting their exact location in a way that other apple devices can pick up. if they do so, that device passes that information along so you can see where it is on a map. if you're within bluetooth range you can then track it down to the foot and it'll give you realtime distance and direction.
we saw it was reporting a location at a house 12 miles away. in an area that is known to be a little rough. a neighbour and i decided to drive past and see if my phone would give me an update. having done so i was able to get within 9ft of at least where the tag was - we didn't know if it was still attached to the vehicle. there was a van parked outside, a shed, and some tarps in the garden covering... something. meanwhile the airtag kept reporting 'low battery'.
that was obviously as much as we wanted to do without risking our safety or breaking the law. i phoned the police, but they could only promise to drive past within 24hrs. we went home.
a little later the police phoned to say they would be going by within the hour and would report back to us. we inadvisedly drove back and parked round the corner. not long after that we saw two police cars turn up. the police then phoned me and asked us to go away. which is reasonable! by the time we left we could see four police vehicles and flashlights being shone around. the police phoned to say they found my vespa and another bike. they said it generally seemed in good condition and still had the dog carrier bungied to the rear rack. they gave me the option of coming by and riding it home. but i was quite adrenalised and they also couldn't confirm whether it was actually ridable. so instead i let them recover it to a police facility.
so that was tuesday. on wednesday i jumped through a bunch of hoops and was then able to go to the police facility where it was. they offered to give me directions, but i said i still had the tracker on the bike and could see where it was.
they can't let any civilians into the facility but i was able to give them the key and advise them where to find the vin which is the one thing they needed. they, too, reported that the bike generally seemed in good condition. i had the option to pay £150 (for the recovery to the compound) and take ownership again. however in obtaining the vin they discovered that the key didn't work. and the steering wasn't locked. it also had no registration plate - i could have quickly got one made had that been the only issue.
it made sense, then, to go home empty handed and phone the insurance to see how they'd prefer to handle it. they have a third party who will handle recovering the bike from the police and doing a repair estimate. insurance will then make a decision whether to write it off or repair it. then it'll be a bunch of waiting for parts and repair i expect. and i'm sure i'll need to pay £400 which is the excess on my policy.
i'm somewhat hopeful that they'll repair it. though it obviously depends what else they find on closer inspection. my guess is the thieves wrenched the handlebars to break the steering lock and either that's enough to prevent the key working or it's broken some ignition gubbins.
it has been a stressful couple of days. but hopefully it's /kind/ of good news in the circumstances. i absolutely didn't expect it would be recovered. my airtag has earned a fresh new battery. and my dog would like her chariot back.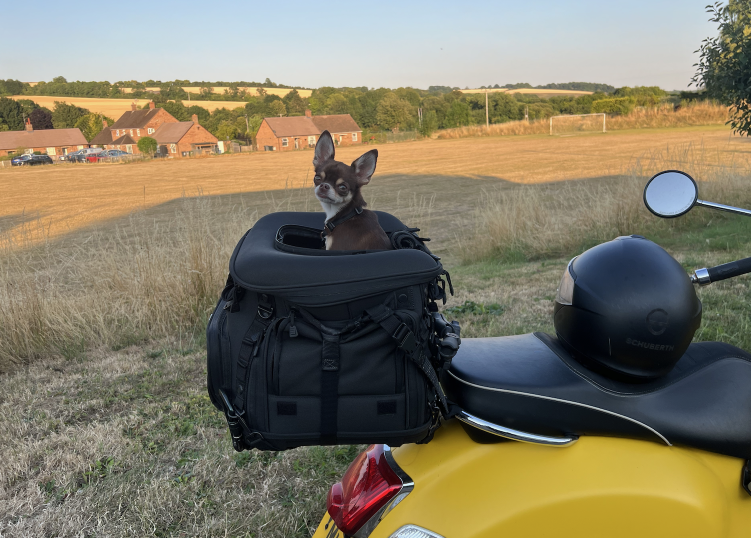 harley on the vespa, in less stressful times.