I have been staying in West Asheville for the past two weeks now, staying in the house of our son and his wife while they travelled to the Iberian Peninsula.
Our only duty, to take care of their dog while they were away.
I has been a good preview of retirement for me, and I mostly like it a lot.
Because my wife wanted to have her car up here, it ruled out hauling a scooter in my truck, and the weather was rainy on the few days it would have worked for me to ride it up, so I ended up arranging to borrow two rides while here.
First, my daughter-in-law's Honda Grom for a few days, then swapping it for friend Gregg's (Bueller) Vespa GTS250.
The Grom is fun but I look like a circus bear while riding it, plus it is slow and has a severe vibration in the bars and seat. The Vespa felt like a Cadillac in comparison, plus it is so familiar because of my experiences with my Vespa GTs.
I have had a few nice rides up to today, a long ride down to Landrum, SC to see a friend's farm and several rides to Weaverville, Marshall and Hot Springs.
But today was the best ride yet, a big loop to Cashiers and back.
It started down 191 to get out of town, then turning off onto the Blue Ridge Parkway heading southwest. I got off onto 215, also known as Parkway Road, a road much like the BRP with big sweeping turns as it ran down from approximately 5,500 feet.
I rode 215 to 1326, Macedonia Church Road to Blue Ridge Road to 64 into Cashiers. All the roads were fun and lightly traveled.
After a quick stop for a late breakfast at Bucks Coffee Cafe, I headed north on 107, a busy road that led to 281, Canada Road that led to 1756, Charlie's Creek Road back to 215.
I stayed on that past the Parkway, down to Canton. It was popular with motorcycles as I saw many on this stretch.
After Canton the roads became more ordinary as I passed I-40 to a four lane part of 63, then got off to head to a bridge that took me to 251 where I rode along the French Broad River back to West Asheville.
The more time I spend in the mountains around Asheville, the more I know that it has some of the best riding roads anywhere.
Bill
On the Blue Ridge Parkway.
On the Blue Ridge Parkway.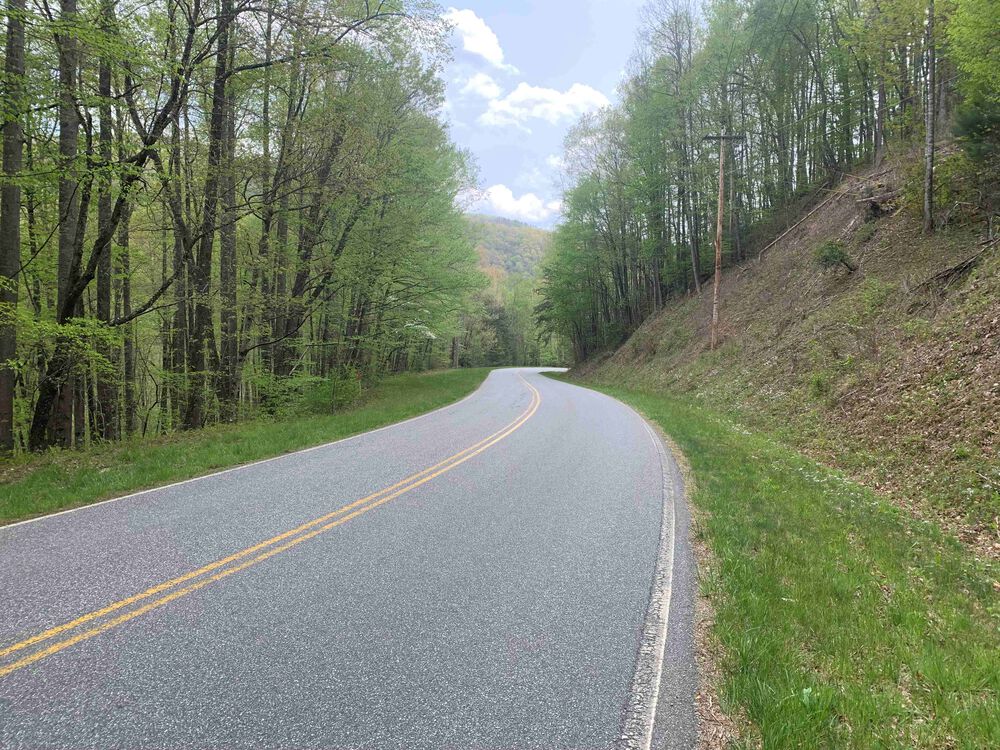 On Charlie's Creek Road.
On Charlie's Creek Road.