Hello there! After owning and riding two-stroke engined LML and Bajaj scooters some twenty or so years ago, I had a recent fancy for another. So, despite having several other bikes including my general workhorse SYM Joyride 200efi auto-scooter, when I saw an LML 200 4T advertised locally with low miles and in excellent condition, I simply could not resist and very quickly bought it!
The short ride home was interesting, particularly re-adjusting to the smaller wheels and manual gear operation and most of all, what felt like an odd place to have a rear brake! But all was well, and I found I was smiling to myself throughout the journey. Once home, I gave the scooter a soapy wash and polish and removed excessive 'Mod' decals and accessories fitted by the original owner. Factory-finished, in a rather nice cherry-red with a tan-coloured saddle that is pleasingly comfortable, fit and finish is I would say generally pretty good for a mass-produced, affordable vehicle and at least as good as any standard, factory Vespa that I have ever seen on the street.
This LML scooter has from new been equipped with sturdy steel luggage carriers front and rear together with other matching trim, a neat fly screen, mod-style target mud-flaps, stylish white-wall tyres and two new spare wheels – all these extras courtesy of the original owner, thank you – and with just 2000km on the clock, for an incredible £1400 ($1738) it has to be my bargain purchase of the year! There was also an array of pretty useless decorative mirrors, various additional marker-lights and air horns, all of which I instantly removed. I'm not a great fan of unnecessary frippery, particularly so on such a classical design. Fortunately, none of the above had been tapped into the original electrical wiring harness, so no actual wiring mess to restore, instead the original owner had installed a separate battery in the glovebox and wired them to that directly. Incidentally, the useful small bag on the rear luggage rack shown in my photographs is my own addition, a strong water-resistant canvas, vinyl-lined backpack originally supplied to the East German army and with its built-in metal attachment clips and rubberised straps, a good fit on the carrier and useful for carrying my favourite ride-day picnic!
As a four-stroke engined, manual-geared scooter, it does not have of course the familiar 'rin-tin-tin-tin' exhaust-sound so beloved of Vespa two-stroke-engine aficionados (and cursed by neighbours!), and sounds more like the subdued 'put-put-put' of your typical Honda Cub and indeed shares some similar engine characteristics, with I think more low-down torque, such that the LML is happy to potter around in fourth-gear almost down to a walking pace, which is great for unhurried, leisurely rides in the British countryside. As with almost all Indian-market motorcycle production, fuel economy is excellent, with handling, braking and overall performance being just about fine for the type of 'B' class roads and unclassified country roads that I frequent on my leisure-and-pleasure scooter journeys into the remoter rural parts of County Durham, England. I would not, of course venture onto fast, busy motorways with it, but then that is not what it was designed for.
When, parked somewhere, and invariably asked by the many curious non-two-wheeled people, I'm more than happy to tell them that the scooter is an Indian-built product, inspired by the iconic Italian original design, just as I would say that a Douglas Vespa was British made (or assembled) and likewise the Spanish Vespa product or indeed any of the 'foreign-made' Piaggio licence-built scooters from around the world. For the small minority of Vespa 'enthusiasts' around that seem oddly to have a psychological "Mr Angry" complex where the Indian LML scooters are concerned, please relax, I have no intention nor wish to fit "Vespa" or any other Italian badges to it.
Just yesterday, I've acquired a second LML, this time a 125 4t four-speed! This one is a little cosmetically-challenged as they say, but runs very sweetly and will be my spare-time project for the summer.
Well, that's all for now. Hopefully I shall find time to write a few local ride reports over the coming weeks.
[img][/img]
a country road near Bishopton
parked near a farmer's field
The Marina at Hartlepool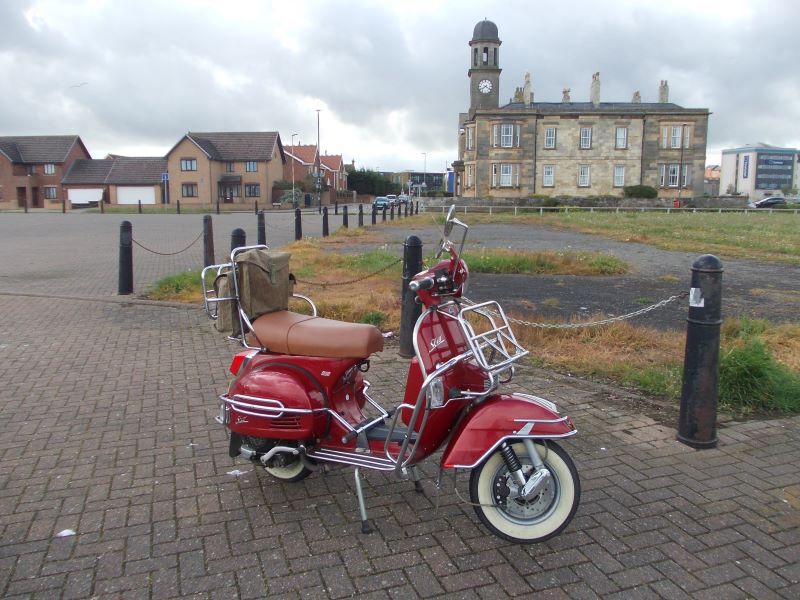 another view of the Marina
the seafront and coastal promenade
another view of Hartlepool promenade
countryside near Fishburn County Durham
My LML 125 project