After yesterday's heavy rain, hailstones and thunderstorms, I'm out very early this morning, cloudy and breezy, for a thirty-mile local round trip, roads damp but rapidly drying-out. There's hardly a soul around at this hour of course!
Taking-in Hartlepool's 19th century promenade with its fine period houses of late Georgian and Victorian origin, the beach and dunes at the popular local holiday resort of Crimdon Dene, narrow country lanes around Heselden ideal for two-wheel riders, the tidy village of Hutton Henry and then home.
Due to the puddles, I think the LML will need another wash!
Damp roads on the High Street, Hartlepool headland.
The High Street Hartlepool, once a popular market place. Slum clearance after WWII created what is now mostly a town park and parking area.
The Promenade looking towards the Pier, Port and marina.
The Promenade's fine old houses with great sea views.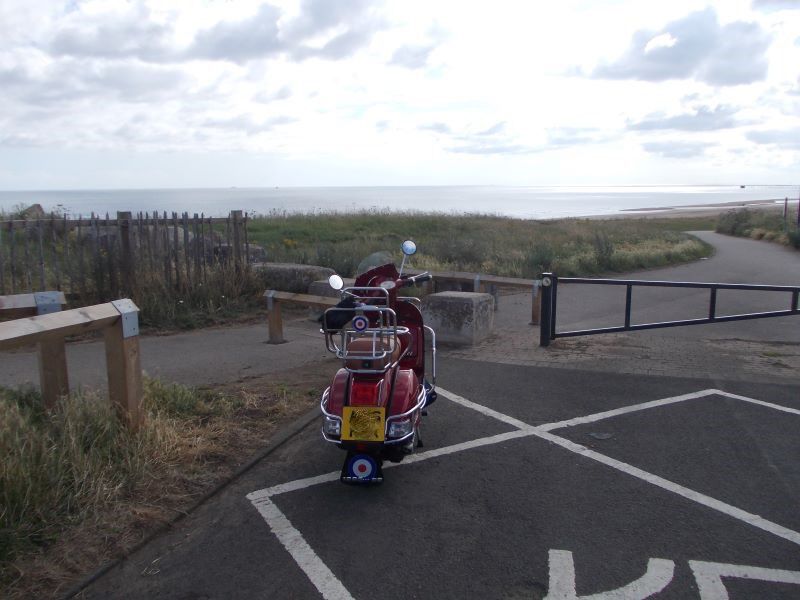 Just a few miles up the coast at Crimdon Dene. A large expanse of beach with sand dunes makes it a popular place to visit for local people.
At Crimdon looking down the east coast with Hartlepool in the far distance.
Near Heselden village and the sun is breaking through!
The lane to Heselden, looking back with the north sea on the horizon.
Parked on the approaches to Hutton Henry Village.
A brief stop with Hutton Henry ahead.
This morning's short local route in yellow.