Greetings,
Its been I think over a decade since I posted on here, but before I ask my question, let me share a little story that I think folks here could really appreciate.
I bought my 2008 mp3 500 in 2008 in central california and owned it through a move to Houston, TX. After witnessing how people drive here and my lack of familiarity with the city (plus having 2 toddlers), I decided to sell the mp3 because I didn't feel safe enough to ride it anymore. I ended up selling it to an italian man who traveled back to Italy for work on the regular and worked on vespa's his whole life, so I felt really good about where it was being rehomed to..
Fast forward to 2023, that itch to own a bike never went away. kids are older now and covid means I dont have to drive downtown as often anymore.. I was well on my way to buying a new ducati Scrambler 800, but just out of nothing more than sheer curiosity, I checked facebook marketplace just on the offchance that there was an mp3 for sale. ( I doubted it, because other than mine, I've never seen another one driving around here.) Yet wouldn't you know it? 4 days prior to my search someone put up an mp3 500 for sale and it looked EXACTLY like mine. suffice it to say, as long as the colors match, they all pretty much look alike.
I reached out to the man selling it, he was a Greek man who retired and happen to buy the bike from in Italian man who decided to sell it, but gave him a ton of extra parts that he would buy in Italy on his travels...
Now, I couldn't find anything at the moment with the VIN or persons name to confirm, but his asking price was right and I never sold the MP3 because I didn't love it. I ended up buying it and as fate would have it, my wife found an old document with the vin and it was an exact match! I just became the proud owner of the same mp3 twice! (Small .. World!)
Now, the downside is, this gentlemen didn't hardly ride the scoot at all. In fact, the gas sitting in it is the same tank of gas he bought it with 2+ years prior. (which means it wasn't maintained at all).
Taking a risk, I rode it over 45 miles home, but it died at every stoplight with an extremely rough idle, check engine light came on a couple times when the engine felt loaded down, but stoppped, let it set a minute, and the light went away. Now that its home, I'm trying to figure out everything I need to do. I have absolutely no idea how to drain the fuel tank (nor do I think my HOA would allow me to do so where I live). I topped the tank off with 92 octane and put an octane booster in the tank in the event I just need to burn through this tank of gasoline. I read several other posts on this forum of things to check:
Spark plugs: They're on order and should be here wednesday, but I did take a picture of the connecting wires inside the boot and they looked clean. It appears that the owner I sold it to, based on parts I have, changed the plugs every time he changed the oil, because the amount of used plug he had in parts doesn't add up when you consider the mileage difference on the bike since I owned it and now. The older plugs look properly used, not fouled, but I figured to start fresh would be best.
Air filter: I took it out and it really appears very clean considering how long its been setting. I've provided pictures of it and the filter box in this post. Also, what sort of oil should I be using to recharge this filter? What is most readily available near me is K&N oil but if there is a better one I'll order it.
As the feels like temperature right now is 117F (about 42C), and I'm no longer young and immune to the elements, I stopped for the day... BUT:
Oil: I read the religious debates of what kind of oil to use, and ended up buying a few quarts of Castrol Edge 5w40 full synthetic as it was readily available and plenty of folks appear to use it stateside. I plan to replace the oil once I have the new plugs
Throttle body cleaner: I the pros and cons about using cleaner versus removing the TB alltogether, honestly either are a bit daunting to me just because I'm not completely clear how to access the TB in order to use the spray cleaner (I bought the MAF throttle body cleaner, as I read it should be the best on the sensors the bike uses), and this seems to be something that isn't well covered on youtube (at least I havent found it yet). I understand that the airbox and air intake needs to come off, but where/how to spray it, and doing it in such a way that I can increase the throttle seems a bit mystifying without a second person.
I really want to get this beast back into good running order.. I've posted a video hoping it might stir some audiovisual concurrence with others that have experienced problems and maybe can suggest other things to try? Unfortunately, I didn't realize until today that the only Piaggio dealership in Houston closed during covid, and the closest one is in Austin (about 3 hours away). I've yet to find anyone who has experience with mp3's to take it to, so I think I'm on my own to get it at least up to a 3 hour road trip to austin where I can have it truly gone over. (Unless anyone knows of a person/facility in houston, thats still operating in 2023, I can take it to!! )
I'm excited to be rejoining this community. I see some names on here still posting from back when, and it doesn't surprise me. This was always a great and helpful community.
I appreciate any advice or feedback you can provide on the issues im having.
Video link 1:
https://photos.app.goo.gl/SH2ULatzcyL2QoeB8
Video link 2:
https://photos.app.goo.gl/KsuvQQ6vUPBWMoxKA
Mike
Air filter
Air box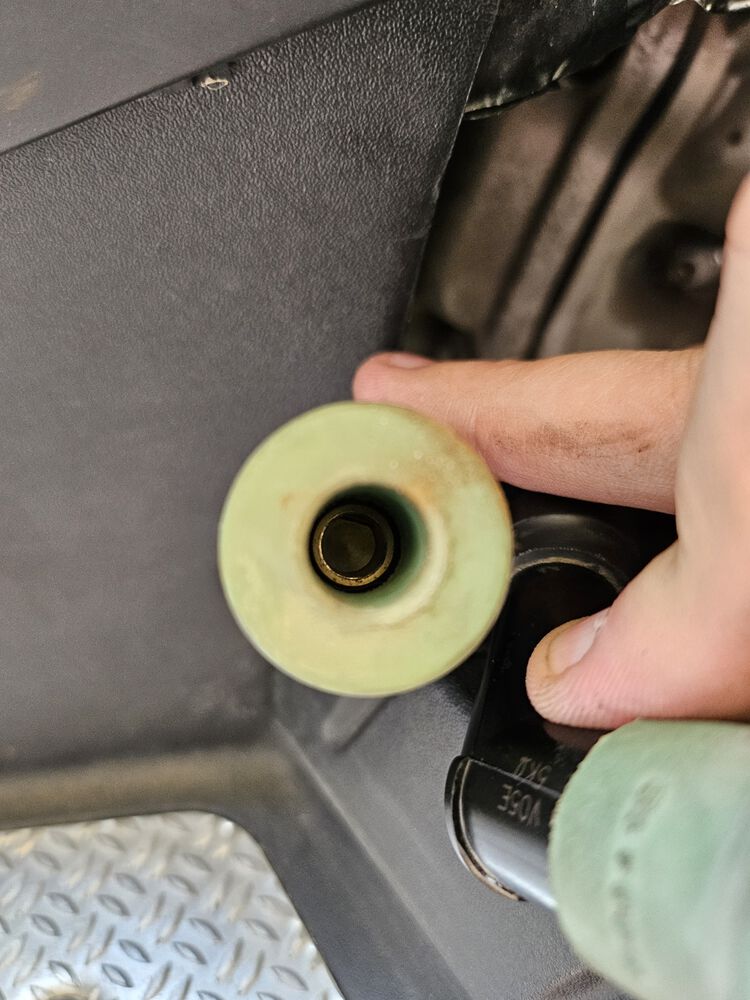 Spark plug boot 1
Spark plug boot 2