Check it out MV. I picked up a BV250 a while back. I love the bike, but can't stand the seat. After a 20 minute ride in 85 degree temps, I described the experience as wearing a pair of vinyl Speedos that are 2 sizes too small. Something has to be done. I'll post pics along the way. First step getting rid of that awful hump. With the dome gone, I had 4 solid mounting points on the same plane, top and bottom. I sandwiched 1/8" sheet aluminum on each side securing with epoxy and pop rivets. 8/22, I have the foam work done, and the seat shape is where I want it. I removed over 1.5" at the horn, and carved the rider depression back over an inch. It's looking an awful lot like my Granturismo seat. 8/23, I took it out for a 40 mile ride this morning. I don't like the interaction between the different pieces of foam and my tailbone. I've ordered a silicone gel pad to address this.
Piaggio, form over function every time.
Vinyl and foam removed.
Take a deep breath and start to cut.
Top of seat pan.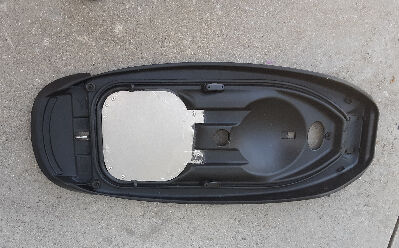 Bottom of seat pan.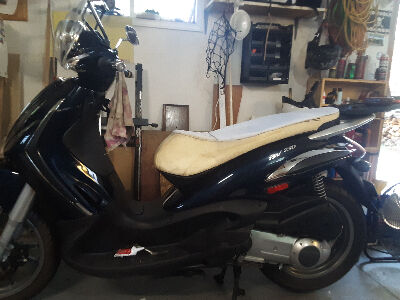 8/22 Re-shaped seat.
I should have planned on this from the start.