Storm Guard Rain Jacket & Pants by Motoboss
Intro:
Sooner or later we're all going to get wet. Some of us drive our bikes exclusively in any weather, while others drive for the fun of it. In any event, everyone should have adequate wet weather protection. In my search for lightweight rain gear, on a budget, I came across the Storm Guard line. Purchased from Cycle Gear, the jacket was $24.99 and the pants were $14.99.
Manufacturer:
The Storm Guard jacket and pants are made/marketed by Motoboss. After much searching on the net, the only references to Motoboss were from Cycle Gear. I would assume that Motoboss is a line of accessories branded exclusively for Cycle Gear. Cycle Gear is a chain retailer specializing in motorcycle accessories, parts, and apparel.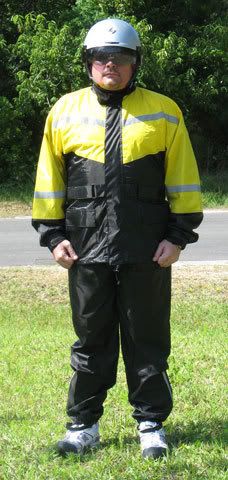 Rain Jacket Construction:
Water proof and UV resistant polyurethane coated polyester shell.
Internally taped at critical seams.
Micromesh open-weave liner for wicking moisture and quick drying.
Caped vent back for ventilation.
Zippered front flap with rain gutter to prevent water ingress.
Reflective taping.
Adjustable belt and wrist cuffs.
Hook & loop cargo pockets with rain flaps.
Rain Pants Construction:
Water proof and UV resistant polyurethane coated polyester shell.
Integral elastic waistband.
Heavy duty taslan fabric in crotch and bottom areas for high wear.
Ankle zippers for pulling over shoes/boots.
Reflective taping on zipper flaps.
Removable instep straps.
Hook & loop cargo pocket with rain flap.
Impression:
First, let me say that I am not a small person. At 6'1", 260lbs, 40" waist, I require at least a XL. The first set of Storm Guard's were XL. The top was too snug when riding, and the pants wouldn't make it over my big butt no matter how I wiggled. Cycle Gear exchanged the set to a XXL. I would suggest you try on the pants & jacket in the store. The Storm Guard series seems to run a bit small, especially if you're putting them on over any gear.
The jacket fits well and cinches down completely at the neck, wrist, and lower waist. There is plenty of arm room with a nice gusset in the armpits. The cargo pockets are large with a secure hook & loop flap system. The front zipper incorporates a flap "rain gutter" system to stop any water from getting inside. The lowest part of the jacket has a built-in cinch cord. The jacket did not ride up my waist when I raised my arms up. I found 3 exhaust vents on the back cape and none on the front. The collar has a nice cotton backing which does not chafe when cinched against my neck.
The pants are very snug around the waist (near the elastic) but become looser in the crotch and legs. Squatting down didn't produce any seam stress around the crotch or waist areas. The instep straps can get in the way when you're in a hurry. Luckily the straps can be removed. The built-in elastic on the ankle cuffs keep the pants in place. The reflective taping on the lower leg zippers is a nice touch.
To test the waterproof abilities of the Storm Guard set, I devised my own unscientific test. I donned the jacket and pants, then made sure every extremity area was cinched down correctly and tightly. I volunteered my lovely redhead to let me have it with a garden hose. Too bad my children are grown and gone, they would have loved this part.
After a good 60 second dousing with the garden hose, the Storm Guard set was indeed, water proof. Be sure to watch my Storm Guard Wet Test video. Personally, I think this rain set will hold up well in the rain and keep you dry.
Conclusion:
For $40, it's hard to beat the Storm Guard rain jacket and pants. The design is well thought out with the cyclist in mind. All extremity areas have hook & loop, elastic, or cinch cord fasteners. The zippered ankle cuffs slip easily over my boots (size 13). Plus, absolutely no water intrusion during our water test make this set a bargain.

---click below for wet test video---