There are actully two models, the Nuvi 500 and the Nuvi 550. To clear up any confusion, both are said to be identical except for the pre-loaded maps. The 500 has road maps
and
topographic maps of the continental USA only. The 550 has road maps that cover USA, Canada, and Alaska, but does not include the topographic maps. Reviews of the 500 and the 550 are otherwise interchangeable. Since I intended to use this unit primarily for my scooter, I chose the 550.
Note: This is not an exhaustive review of the Nuvi 500's features and operation. Most of that information can be found elsewhere, like here:
http://www.gpsmagazine.com/2008/07/garmin_nuvi_500_review.php
. My intention is to point out those features that may be of interest to the motorcycle/scooter rider.
The Nuvi 550 is not a dedicated motorcycle GPS. In fact, if you search Gamin's site, the Nuvi 550 isn't even listed as a motorcycle GPS. However, this model has some very nice and unique features that a scooter rider may find interesting and desirable.
The Nuvi 550 is a
crossover
GPS, designed for multiple uses and modes: Biking, Driving, Walking, (Marine, with an upgrade) and yes, there is a mode called...are you ready for this?
Scootering!
Driving mode is pretty conventional, so let's look at Scootering mode.
The scootering mode offers three options:
1) Faster Time
2) Shorter Distance
3) Off Road.
It also has a list of avoidances:
1) U-Turns
2) Highways
3) Toll Roads
4) Traffic
5) Ferries
6) Carpool Lanes
7) Unpaved Roads
There is always a question as to what a GPS considers a "highway," but so far, the Nuvi 550 has done just fine in that regard. In any case, on a long trip where highways are to be avoided, it's always best to double check your routing and make any adjustments before you leave.
Price:
The Nuvi 550 is reasonably priced. I
like
reasonably priced. I purchased mine from Amazon.com. for about $260.00.
It's waterproof!
No need for Aqua boxes, no plastic bags, no worries. It's supposed to be waterproof to 1 meter deep for up to 30 minutes. Someone even tested it:
The battery
is claimed to last up to 8 hours (more than long enough for a day's riding) and you can easily switch
the
removable/replaceable
batteries so you can keep a charged spare ready. I'm sure the longevity will vary depending on screen brightness and volume. I have a power outlet on the scooter but I haven't had to plug the Nuvi in yet.
The display
is easy enough to see, even in sunlight. On a recent ride in sunny to mostly sunny conditions I had no trouble viewing it, even set a 50% brightness. The on-screen directions were also easy to take in at a glance. Turns and road names are displayed at the top of the screen and with a big arrow on the map (see image below). It even displays a sign showing the speed limit for the road you are riding. Incidentally, you can quickly adjust the brightness by momentarily pressing the ON button...you don't need to go through the menu.
Glove friendly?
Maybe. I was able to use the touch screen with my gloves. Bulkier gloves/hands may produce different results. (The + and - icons for zooming in and out on the map screen are rather close together.) I'm not likely to be fiddling with the unit while riding so this is not a big issue for me.
The voice prompts
are clear, precise, and simple. No street names are announced...no text-to-speech. It just warns you a turn is coming up, tells you where and which way to turn, which lane to stay in and so on. Basic stuff. It was easy enough to hear and understand the directions while on my ET4 up to about 35/40 MPH. After that, I could hear the announcements but I could not understand them. This didn't present a problem since the screen is so easy to read. I just glanced at the display every time I heard it trying to tell me a turn was coming up, and there were the directions, right in front of me.
When you get your unit home
, you can sign on to Garmin for the latest map update. You should download a program called the
Garmin Comminicator
first, which facilitates the use of your GPS with the computer.
MapSource software
is included in the update! This allows you to design a specific route to your destinaton and transfer it to the GPS. There is a learning curve to be sure, but I tried it out and it looks very promising. (It also holds the promise of creating routes which can be shared with others who have the MapSource software...neat!)
Oh yes, you can also down load
Mad Maps
to the unit...it comes with a tour of Historic Rt66 already installed.
Your unit will also work with Google Maps, allowing you to download directions to businesses.
You can download different icons for each mode and different voices, too. I didn't find a big selection on Garmin's site, but it's there if you want it. Maybe someone here can design a scooter icon for them.
More info is available at the Garmin site:
http://www.garmin.com/
Other things you should know about:
No bluetooth, no external speaker jack. There is also no place to attach a security strap, so get a good sturdy mount and you'll be fine. I chose a RAM mount from GPS City.
http://www.gpscity.com/
They have great customer service.
The Nuvi 550 comes with a lighter-socket power adapter and a suction cup car mount. That's it. You'll need a USB cable (I used the one from my camera) to connect it to your computer, which also charges the unit. I purchased a home charger but I understand some cell phone chargers will do the job, too. It doesn't come with a case. I would recommend ordering a sturdy one.
You can also add a micro SD card if you want more room to store additional routes, maps, and pictures. You can use the pictures to display destinations if you wish. (But see "The Weakest Link" below.) Remember, this is a crossover unit: You can mount it on your bike or scooter, get off and take it for a walk in the woods (it records tracks and has a compass), do geocaching, rent a kayak for a boating trip (with optional marine maps), find your way back to your ride and trailer it all home in your car, all with this one GPS.
Picking Nits:
The POI search can be slow. Agonizingly slow. It's quick enough if you are searching local to your position, but once you start searching far and away you may find yourself in for a long wait. I have heard that this is not specific to the Nuvi, but to many Garmin models in general. For example: I searched for Fontana Dam...a place where I like to camp near Deals Gap/Tail of the Dragon. After several long minutes, I just turned the search off. My Magellan Maestro 4040 GPS found the location in seconds. If you want to know what's near where you are...it's fine. If you're looking for POI's far along your route and you don't have specific address information, you should be prepared to make some coffee while you wait. It's much faster if you look up specific addresses on your computer ahead of time. Big problem? Not for me. It would be nice if they could address this in future updates.
Some GPS units display POI icons such as gas stations, rest areas and campgrounds on the map screen so you can see them coming up on the display as you ride. The 500/550 does not. If you're looking for a nearby hotel, you're going to have to pull over and do a POI search.
However
, there is nice little icon called "Where Am I?" Tapping it brings up a screen that displays immediate useful information: Your co-ordinates and elevation, the nearest address to you, nearest intersection, hospitals, police stations, and fuel.
The Weakest Link:
Documentation. The device comes only with a quick-start manual. For everyday use, it's fine. A manual is available online but it's sadly lacking in detailed information. The happy "add a MicroSD card" or "navigate by pictures" claims are dulled by a lack of instructions on how to get these things to work...it's not as easy as they make it sound. Be prepared to spend a
lot
of hours net-surfing GPS forums and playing 60 questions with impatient strangers to get tid-bits of basic how-to information that any self-respecting manual should included. The Garmin site has a lot of information, but also an arcane structure making easy access to simple information almost impossible. Bad, bad, Garmin.
Still...
To sum up
, if you are looking for a reasonably priced GPS from a major manufacturer which is rugged, waterproof, does not necessarily have to be wired up for power, and has the ability to accept custom routing, you may want to check this one out.
I emailed Garmin several times with questions about the unit before I purchased it, and although it took a day or two, I always received a thoughtful reply. I tried calling them a couple of times, but the wait times were very long. To be fair, it was a Holiday weekend. After purchase, I had problems updating the unit with Firefox, however I found everything worked fine with Internet Explorer. I asked them about this and they were surprised, stating that both browsers should work, and Firefox would normally be even faster. Maybe the problem was with my security settings in Firefox. In any case, their customer service was fine.
Here is a screenshot of the Nuvi 500 / 550: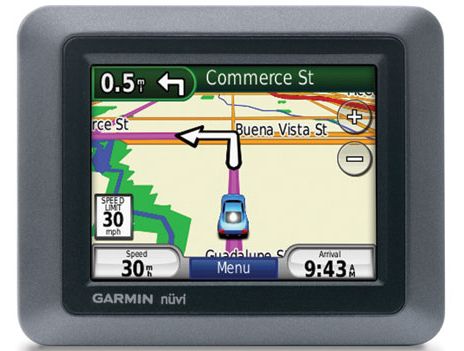 Last edited by Menhir on

Sun, 21 Mar 2010 01:35:00 +0000

; edited 1 time