North 101 - east 76 - Palomar Mountain South Grade Road (S6) and East Grade Road (S7) - east 76 - south 79 - west 78 - Del Dios Hwy - Via De La Valle - 101.
map -
http://tiny.cc/Yfc8u
I like this route because it has a nice mix of scenic slow roads and straight moderate to fast roads as well as a more challenging technical road. There are also lots of ways to modify it: you can easily eliminate Palomar Mountain's twisty South and East Grade roads (S6 and S7). Just continue straight on east 76 until you reach the 78 junction. You could lengthen the ride to include Warner Springs and/or Julian. Or take a more southerly route back to the coast through Poway and Rancho Penasquitos. Plenty of options available.
Another reason I like this ride is I don't need a map. As a somewhat directionally-challenged and non-GPS owning rider, having just a few turns with well-placed and easily-seen signs is a plus.
There are some interesting side trips along the way if you like to stop from time to time. There's the San Diego Archeological Center, San Pasqual Battlefield State Historic Park, two missions, Wilderness Gardens (a wildflower preserve), a couple of casinos, even the Wild Animal Park. Gas and food are readily available, if needed.
I think this ride is best in springtime on a weekday. The smell of orange blossoms is heavenly, as is the sight of abundant wildflowers. Temperatures can vary greatly, so please layer accordingly. Enjoy!
Northbound on Coast Highway / 101
eastbound on 76
too bad the preserve is closed throughout August
acres of orange groves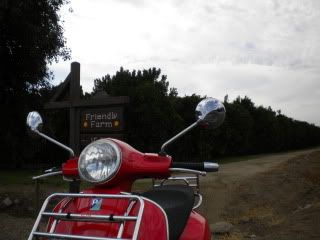 a couple of signs along South Grade Road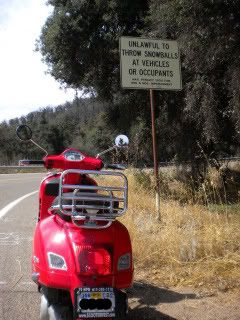 Horses, cows even chickens can be found in east county San Diego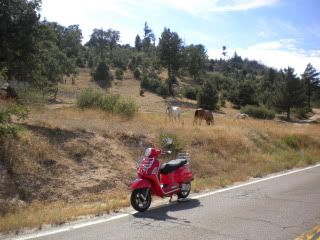 Lake Henshaw