Here's the horn bracket being removed with a nut driver. Overall, pretty simple - if the bolt and washer drop, they will come out behind the front wheel.
I used a separate 12VDC and ground wire from the battery. I taped them together and fished them up behind the glove box following the black conduit going into the leg shield. It pops out behind the radiator - see below. I gently pulled the glove box away
Here's the layout of the 12VDC wire (red) going thru a waterproof automotive fuse holder to the positive side of the battery and the black wire going to the negative side of the battery. I know I could have jsut grounded it to the frame but I prefer to ru
Here's the Stebel horn partially separated from the compressor (steel cylinder). The molded plastic hoder is just below and left of the yellow o-ring. The stub on the C-clamp (vertical piece on the right side) fits into the hole just above the C-clamp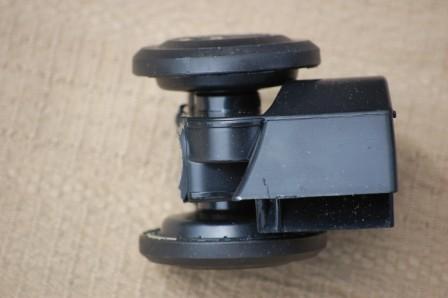 Here's the horn (top view) after I cut off the C-clamp (was on the left side). I cut it off carefully with a bandsaw tho I'm sure you could use some other tool to do it.
Here's the horn ziptied to the original horn bracket. You can see the ziptie just to the left of the air entry hole. The relay is ziptied to the relay above and to the left of the horn. The relay is really light and I really don't aniticpate any problems
Here's the compressor. I cut off the metal mounting bracket (was on the upper left side) using a jigsaw and a metal cutting blade (pretty easy) to save space for mounting. I connected the compressor to the horn via a 5/16" vinyl hose and used a stain
Here's the compressor zip tied to the wing just to the right of the kneepad opening. Its pretty solidly mounted and light enough that I don't think it will cause long term problems (Famous last words).